Students find physical and mental benefits in art
Hang on for a minute...we're trying to find some more stories you might like.
Students in Ms. Furpahs' sixth period Art Extensions class are working on their family portraits metaphor, turning it into an object.
Amongst the chattering  of teens, inspiration and the smell of clay fill the air of the eighth-grade class at Rachel Carson Middle School, while after a long stressful day students can calm themselves in their art projects. Not only does art help the beauty of the mind, but helps the beauty of the school around them.
The starting art class at RCMS, that seventh- and eighth-graders can take, is called art foundations. This gives students an outline of art for future attempts. It helps provide students with a basic structure of art, and what to expect in the art program at RCMS. Students work with a lot of different materials such as clay, paint, etc. In future classes, seventh-graders can get selected to the higher art class known as art extensions.
Art foundations can help you reach new levels of art, and teach the importance of these skills that help out your basic needs.
According to the article The Importance of Fine Art by Bob Bryant, an American politician, "Arts reached students not normally reached, in ways and methods not normally used. This leads to better student attendance and lower dropout rates. Students connect with each other better, which often results in fewer fights, a greater understanding of diversity, and greater peer support."
As Mrs. Furpahs teaches us these important methods, she tells us how she learned them herself.
"Growing up my dad had a wood workshop, leading me to make whatever I wanted," Mrs. Furpahs reflected.
She said how when she was growing up, there wasn't a lot of art classes and education. She looked up to her high school art teacher at Beaumont High School for Girls and soon graduated with 95 others.
"Art expresses very personal things," Ms. Furpahs said. "Sometimes I can see what they can't see."
She mentioned how art always helps her think about something different at the moment and how the information was in the artwork. She also expressed how she never gets bored with art and how she's always doing something.
Now,  around 30 years later, the art teacher is still teaching young students her way of art and how it helps to relieve stress.
"There are many reasons that art is a great stress relief tool, even for those who don't consider themselves to be artists," writes Elizabeth Scott, an American novelist. "People can gain creativity when working in a supportive environment. That said, I did expect that perhaps the effects would be stronger for those with prior experience."
Students relieve stress through the different and challenging amounts of artwork created through feelings and thoughts.
"The arts provide challenges to students of all levels," Bryant writes. "Each student can find his/her own level from basic to gifted. Students learn to become sustained, self-directed learners also. It works on multiple levels to not only relax but also to restore and rejuvenate, bringing joy and increasing your energy and enthusiasm for life."
"A program in art education can provide students of all ages with a solid foundation for their  educational, emotional, social and creative development, writes Rebecca Lake, contributing writer to www.livestrong.com. "An education in art can also help to improve social skills and self-esteem."
Art programs can help to improve memory and focusing skills of children and adults, help construct communication, listening, and decision-making skills, and help children to form relationships between objects and encourage focus and discipline.
Children who participate in art education programs learn to work as part of a team and understand different points of view, according to Americans for the Arts.
Art can help you enjoy the beauty of the world around you, and lets you pay more attention to details. With your sight paying attention to the little things, art can help use your senses in new creative ways. Art can help boost drive, focus, and concentration, along with lowering your stress levels.
"It's kind of all-consuming — I get kind of sucked up into it," said Mrs. Couch, the 3D art teacher at Rachel Carson.
As you walk down the halls of the school, gossip can be heard about the student's artwork while the expression of curiosity fills their faces.
"I think they add a lot to it, and people like to be around places that are pretty," said Mrs.Couch, "and I think it makes it look less hospital-like."
"Art is about change, take risks in a good way," Mrs. Furpahs, the art foundations teacher at Carson, stated.
Gordon Stokes, the Principal at Rachel Carson Middle, gave his opinion on how he thinks art helps relieves stress.
"I never took an art class, now that you mention it. I took music, I played in a band for many years but I never took a visual art class."
When student artwork is displayed around RCMS it gives everybody who comes into the building a chance to understand and enjoy the art experience.
"I do kind of regret that I didn't do anything with drawing or painting or some form of visual art," he said. "It's giving the kids the opportunity to either have an outlet or the learn about a skill they may not have known they had or develop a skill they may not have had. It's just been really good for a lot of kids who have been here.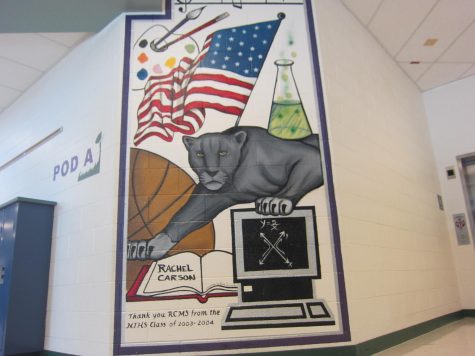 "I think it showcases kind of what our kids are thinking and feeling at different times, like we have a lot of different murals on the wall. And a mural might be painted and it stays there for years, and it shows what kids at that moment were thinking about and trying to express," he said. "And kind of shows the kind of  journey we've made, as a school."

Sophia Zecher, Writer
Sophia Zecher is a seventh-grader at RCMS and enjoys writing in journalism. Outside of school she enjoys swimming for her local swim team, hanging out...