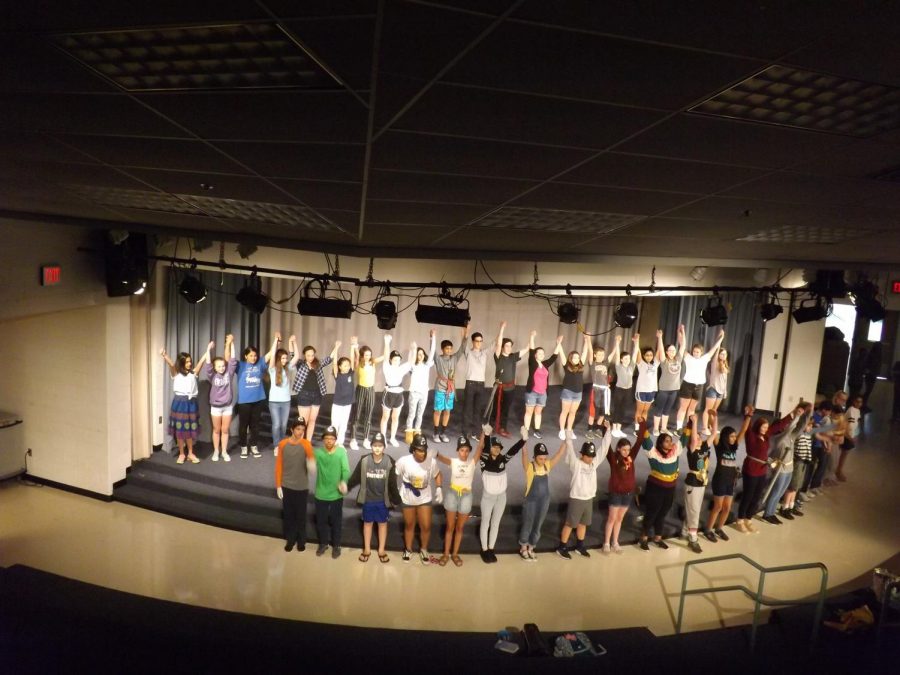 Courtesy of Running Crew
The room was alive with the bustling of students, the chatter of conversation, and the shared feelings of worry, confidence, fear, and most of all nervousness. The first auditioner stood up on stage. Facing the blinding light of judgement, they presented their monologue, sang their song and joined the crowd once more. Many of students in that room went on to stand on stage and rehearse their lines, and sing their songs.
This show requires a big commitment, but most of the actors say it was worthwhile.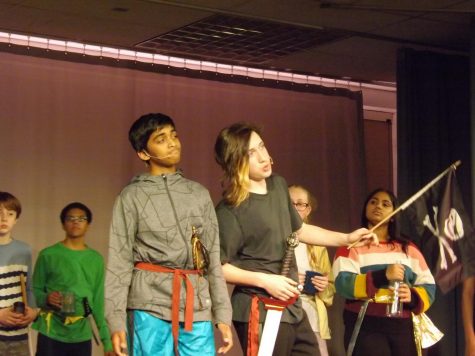 "It's going pretty well," said star Colin Walsh who played the Pirate King in the spring show. "The lines were easy to memorize."
"I have felt very happy, though it can be stressing," said crew member Kevin Argueta. The show has been very enjoyable for most people in it, but of course it does have some strict deadlines and rules that can get you kicked of the show.
Just one cast member, who asked to remain anonymous, mentioned regrets.
"Basically every time I'm singing is a struggle," they said.
For actors who commit to a play like this, attendance at rehearsals is mandatory, and students who miss too many rehearsals can–and do–get dropped from the production. Other expectations include taking care of all responsibilities and not recording unauthorized footage of the show.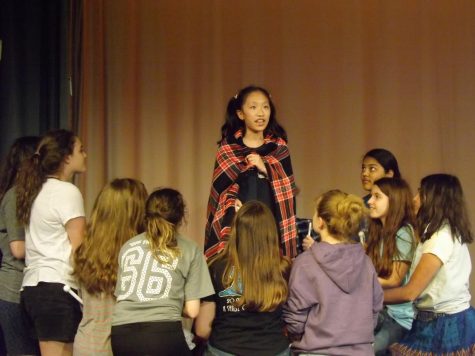 This year's spring show was "Rachel Carson's The Pirates of Penzance Jr." The cast and crew started working on it in January. The director, Mr. Joshua Bickford, played the main character Frederick when he was 11 years old. The play was shown in the lecture hall on May 2-4, and all three nights the audience was nearly full.
The show was about an hour in length and starred actors: Caleb Arulandu as Frederick, Hannah Moghaddar as Mabel, Colin as the Pirate King, Alexa Norris as Ruth, Adem Akbel as the Major General (who starred in last year's show "Fiddler on the Roof Jr."), Will Aukema as Samuel, Natalie Lopresti as the Sergent, Abby Wyland as Edith, Cindy Yang as Kate and Samantha Massi as Isabel.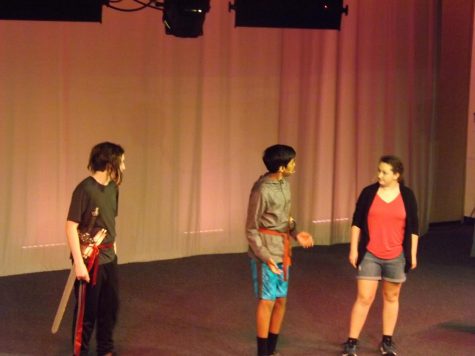 The original "Pirates of Penzance" (also known as "The Slave of Duty") by Gilbert and Sullivan, was first shown on Dec. 31, 1879, at Fifth Avenue Theater in New York. Itwas also released in London for the first time on April 3, 1880. The show is about 21-year-old pirate Frederick leaving his indentures as a pirate and going to follow his duty on land to live among society for the first time in 17 years with his 47-year-old maid Ruth.
This show is the combination of many months of work, stress, and fun. It has had tons of work put into it, not just from the cast, but from the crew and parents as well. Most people who worked on the show say that they have enjoyed being part of it, and don't regret entering it. Also the cast and crew were able to release all that built up stress at the Cast and Crew Party in the cafeteria and at Chantilly Bowl America, after the show was over.
"I have felt very happy, though I regret not trying harder," said pirate Carson Harter.