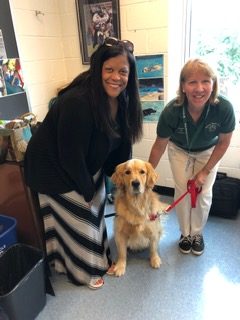 Students will be getting a new addition next year when a therapy dog named Tucker will come to RCMS to help all.  Tucker is a 5-year-old golden retriever who will be here every once in a while to visit the students. He will help them relax and manage their emotions.
"It's really designed to help students who are under stress," says Principal Gordon Stokes.
Nearly one in three students are dealing with stress, fear, and excessive worries on a regular basis; Tucker is here to fight that. Although therapy dogs are not the only way to treat anxiety, stress, and fear, they do lower blood pressure and heart rate, release endorphins that have a calming effect and help motivate students.
Tucker is a reading therapy dog and also a normal therapy dog who will be helping students who are having a bad day. As a reading therapy dog, he will help students who struggle reading by sitting and listening to them read.
"He's going to provide support both in our reading classrooms, as well as to any students who might be suffering from maybe some anxiety or having a difficult day," says Ms. Sybil Terry, one of RCMS's eighth-grade vice principals. "Just in general, they can spend some time with him."
When students are not feeling well, they can talk to their team guidance counselor to schedule a visit with Tucker. Students feeling emotionally or mentally strained will either have the opportunity to talk with their counselor or go to a mental break room. This room will be filled with stress-relieving objects to help brighten the student's mood, and on select days, Tucker will also be there. 
Tucker loves to hang out with people and cuddle with people.
"He loves to play," says Mrs. Doyle, Tucker's owner. "He loves to have friends [and] loves running on the beach. He enjoys life and helps us enjoy life as well."
Students think having a therapy dog would make a really good impact on our mental and social health.
"People can use therapy dogs for good things," said Aneesa Das, on the All-Starsteam, "and they can also be very helpful and stress relieving."
Esther Yang, from the Legacy team, thinks that students should have that comfort to be with the dog and that it would help them a lot in a way to relax. She says, "Dogs are very comforting animals and that they can help you relieve stress and maintain balance."
A few students expressed concern about allergies or kids faking things to go sit and play with the dog, but the school is taking precautions to avoid any unfortunate circumstances.
Administration and many students are delighted that Tucker will be joining us for next year.
"You can see him smiling and wagging his tail makes people feel happy," says Mrs. Doyle.