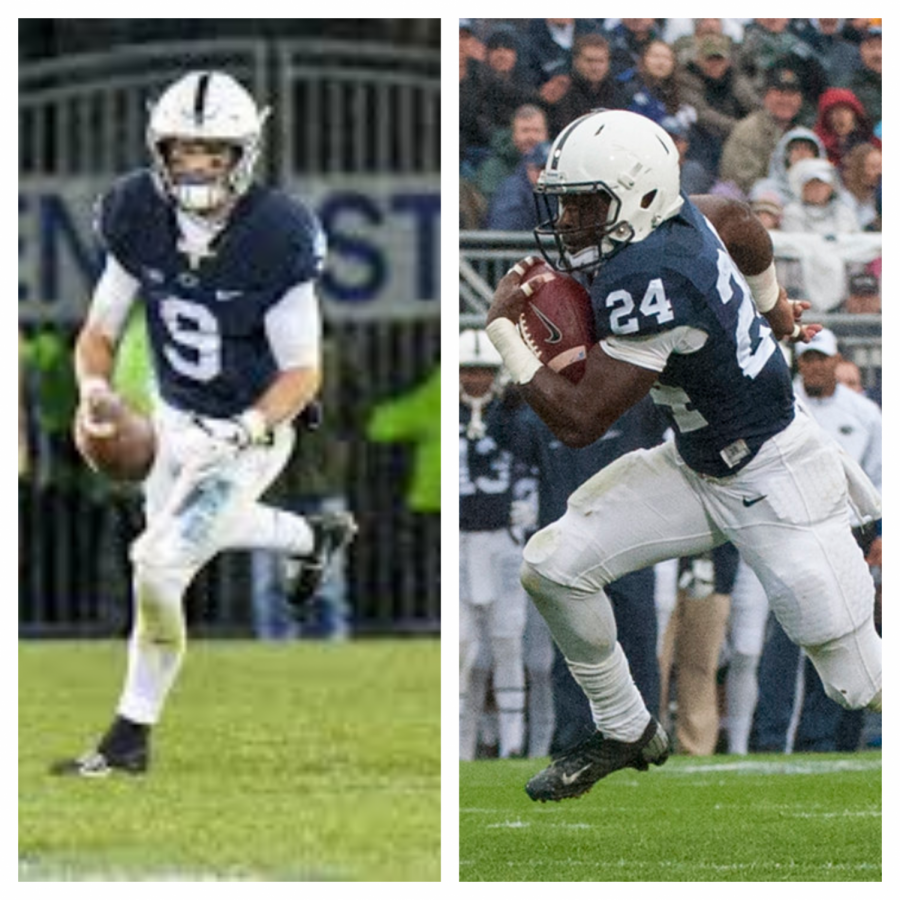 Courtesy Photo
On April 28 two football stars–Trace McSorley and Nick Scott– from Northern Virginia got drafted to the National Football League out of Penn State university.
"I think both of these kids will succeed in the NFL," said Penn State football coach James Franklin in a press conference on April 13.
The first player, Trace McSorley is from Ashburn, VA. Ashburn is about 10.5 miles from Rachel Carson Middle School. He attended Briar Woods High School where he started as a freshman quarterback and led the team to a undefeated record that year. He led the football team at Briar Woods to three state championships only failing to win in his sophomore year.  As a junior, he was awarded All-Dulles District First Team; Dulles District Offensive Player of the Year; and Second-team All-Region quarterback.
Going into college McSorley was a three star recruit. He picked Penn State University to play college football at. He got redshirted his first year forcing him to sit out his first season. He was a redshirt freshman so he only appeared in 6 total regular season games behind starter Christian Hackenberg who is now in the NFL as well. His other three season were record breaking for the Penn State football program but his senior season saw a slight dip stat wise. He was a three time first team Big 10 player.
He broke the following records at Penn State:
Single season passing yards (3,360)
Most single season total yards (3,979)
Most single season passing touchdowns (29)
Most total offensive yards in a game (461)
Most consecutive games with a touchdown passes (27)
"Penn State football trained me for the NFL by making me a well rounded person," said McSorley at his NFL Combine interview.
After setting all those records McSorley declared for the 2019 NFL draft.  At the NFL scouting combine He measured at 6 feet tall and 202 pounds. He ran the 40 yard dash at the combine in 4.57 seconds, fastest since Trevor Knight in 2017. He also had a vertical jump of 33 inches which is slightly above average.
After McSorley had a successful combine he was drafted with the 197th draft pick in the 6th round of the NFL draft by the Baltimore Ravens. In many mock drafts such as Mel Kiper's and Todd Mcshay's, McSorley was a projected third or fourth round draft picks, so Trace McSorley sliding to the 6th round was a bit of a surprise.
"I think Trace was a sleeper pick for us. He can help this team in a lot of different ways," said Ravens general manager Eric Decosta in a post draft interview.
The Ravens already have two quarterbacks on their roster–Robert Griffin lll and Lamar Jackson– that are better and more capable of starting over McSorley. There has been some speculation that the Raven drafted McSorley to be the next Taysom Hill of the NFL by being a positionless football player.
"I will do whatever this team needs me to do," McSorley in his introductory press conference.
The second player Nick Scott was a safety at Penn State University. He originally started college as a running back. He is 5'11'' and 195 lbs. Scott is from Fairfax, Virginia. He played high school football at Fairfax High School under Coach Kevin Simonds. He was drafted by the Los Angeles Rams in the seventh round with the 243rd overall pick.
On many mock drafts, Nick Scott was an unexpected pick by the Rams. Many mocks said that he was unlikely to get drafted, but with the 243rd overall pick in the the seventh round the Rams chose Scott. There were only 11 picks after he was drafted so it was likely he would go undrafted.
The Rams are a very young team with a lot of potential. They made to the Super Bowl last year and have a chance to do it again.
"There are a lot of good leaders on this team to help me learn," said Scott.
In his senior year he caught three interceptions, and recovered one fumble. Along with that he had 35 solo tackles and 30 assisted tackles for a total of 65 tackles and one sack. He averaged five tackles a game last year, which is very good for a safety.
Many reports are saying that Scott, like McSorley, may not play the position he was drafted for. Scott could play on the Rams special Teams as a returner or a tackler on the special teams.
"As a special teams player I would need to take advantage of every opportunity I get," said Scott.
Although Scott may not make the Rams final roster he would likely get picked up by one of the other 31 teams in the NFL because a talent like his is needed many other places.
"We picked him because of his athleticism and leadership," said Rams General manager Les Snead at a press conference after the draft.
Both McSorley and Scott have a promising future ahead. Both of their first games will air on Sept. 8.