Exercise essential during quarantine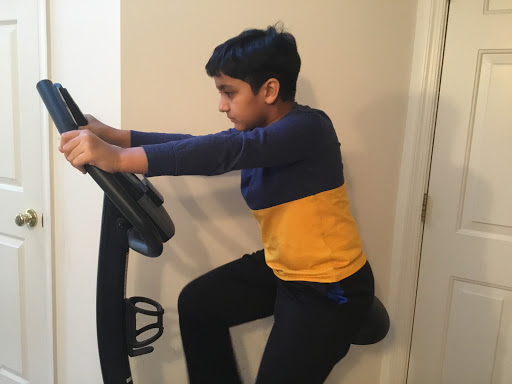 After a day of staring at a laptop, many people might relax; however, not everybody knows the hidden risks of sitting.
"I haven't been able to play outside as much as I used to," says Anay Bansal, a seventh-grader at RCMS.
Even though many students cannot play outside because of COVID-19, people must continue exercising safely, says Mr. Kerry Campagna, a seventh-grade P.E teacher at Rachel Carson. Some exercises like lifting weights, push-ups, squats and jumping jacks can all be performed at home.
Our bodies are made to move, Mr. Campagna says. Our bodies include more than hundreds of joints and muscles for flexible and easy movement. Exercising is also one of the fastest ways of improving health and feeling happy due to lower stress levels, blood pressure and heart rate. Exercise also controls weight, improves mood, boosts energy and can contribute to better sleep patterns.
Water is important too.
"A teen should drink 56-64 ounces of water each day," says Mr. Campagna.
Water is used to keep the body's fluids in control because the human body loses water through breathing, sweating and digestion. Although inactivity does help ration fluids in the human body, it can lead to consequences too.
"If you are not active for 72 hours, muscles start to get atrophic," says Mr. Campagna. He also recommends at least 60 minutes of aerobic exercise each day.
Monitoring daily screen time is very important during COVID-19 because students are managing almost all of our school work online. Effects of screens include headaches, double-vision and concentration difficulties.
"Although I do know there is no other way for me to learn effectively, long screen time strains my eyes and gives me headaches," Anay says.
He recommends, if possible, to stay off screens unless necessary.
"Playing outside improves my mood, especially if I'm playing in a group of friends," Anay says. "Fresh air and natural sunlight feel good–also because I feel that I am doing something productive."