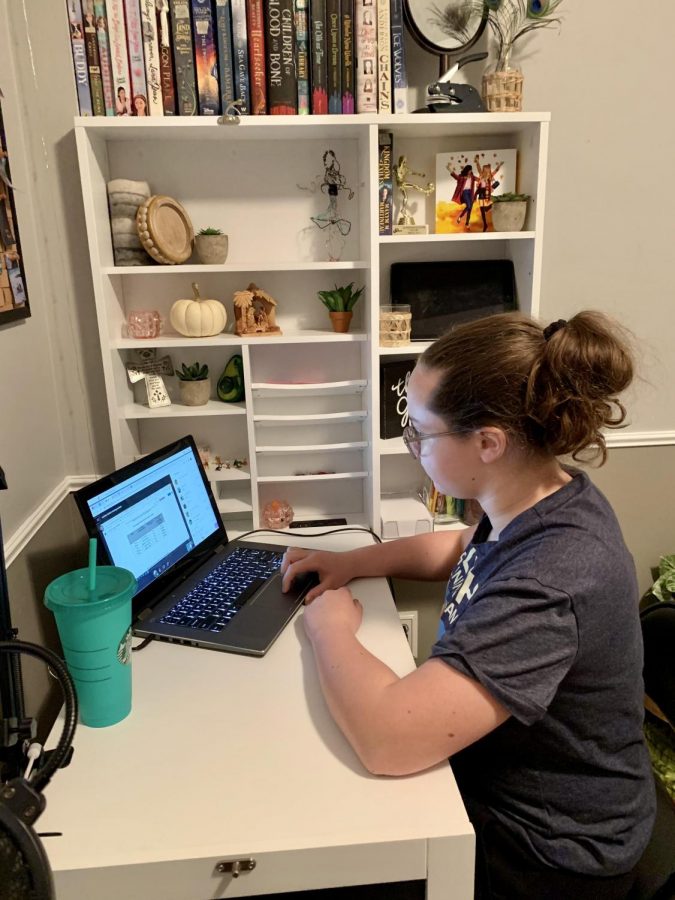 Courtesy of Grace Gibbens
Despite the challenges with online school students found a surprising benefit — that students are getting judged on their work instead of their physical appearance. 
"I used to get mean looks from people who were judging me — I felt left out," stated Lily, a seventh-grader who didn't want to use her last name. "But now with online school the only thing people comment on is how good I am at art."
Students in Fairfax County schools, like their fellow students worldwide, are experiencing school in a way that is new to the history of humankind. Full time online learning is an adventure few have experienced before, but because no one has experienced it before quite like it, there is not a cadre of adults with experience to guide students through. 
Inside the Technology Lab
Seventh-grade students are having an experience with online learning that includes challenges like focusing on the material that the teacher is presenting.
Students describe all kinds of new distractions when schooling from home, including noises from siblings and parents, as well as other screens.
"I hear all of my family talking throughout the house and it drives me crazy, but I still love my family," said Tabitha Erazo, a seventh-grader at RCMS. 
 "The teachers tend to say things like 'you should have paid attention in class' or 'review your notes' instead of understanding that it is much harder to focus during online school instead of in person school," said Tabitha. Tabitha is one of 188,000 students attending online school in Fairfax county.
Some bullying has continued online during Covid-19. A study published by the U.S. government showed that over the period of time during Covid-19 cyberbullying on non-school social media has increased. 
Still, students appreciate not having to deal with in-person bullies. In virtual class, if someone says something mean to someone, then teachers have the ability to turn the chat off; that way they have more control over the students and the students cannot pick on each other through that program.
"I get to mute you guys in online school, versus if we were in real live school I would have to shush you guys," Ms. Ji Dalkin said with a laugh.
However, sometimes when students get muted they don't get their questions answered during that class, so they go to office hours, which is a period of time that students can go to their teachers virtually and ask them questions there privately. 
"I do enjoy having the option of asking my teachers questions at a different time than our class time, and that my teachers are always willing to help me when I'm confused," stated Tabitha.
There are other benefits to virtual school as well. Getting ready for school is fast and easy.  Students can also get more sleep, because they don't have to take the bus, go in a car, or bike there. They can also use extra time during the school day to use the bathroom if they need to, stretch, take a nap/break, study/do homework, or get a snack.
Connected, but alone
Despite the benefits, many students report they feel they are missing the in-real-life experience of seeing and making new friends. Students are trying to gather together in other ways to feel less alone.
"I miss being able to see my friends in class every day," says Tabitha. "I try to meet with my friends socially distanced with masks on to hang out, at least once a month."
Teachers also miss seeing students and staff in person.
"I miss having the bond connection with in-person students," stated Ms. Maitland Mann, an English teacher at RCMS. "I miss seeing their faces and seeing them in class."