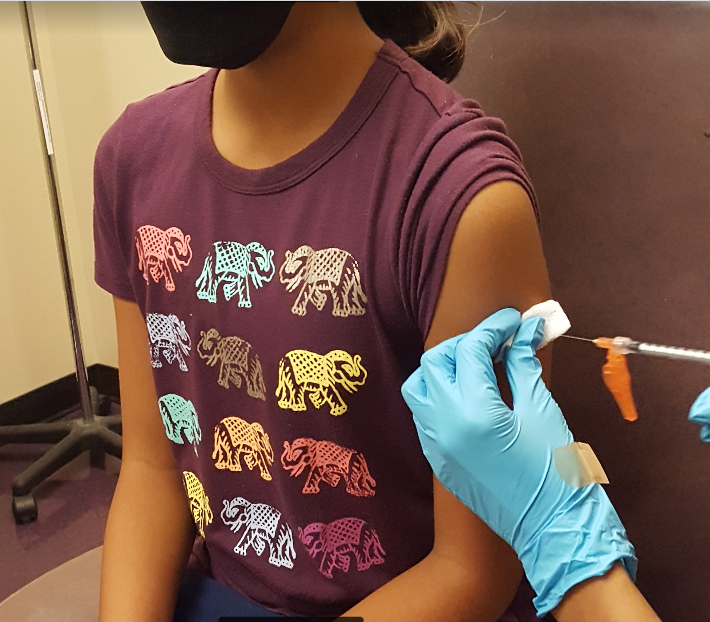 The Pfizer vaccine could be ready for ages 5-11 as soon as Halloween.
Currently, many young children across the country are ineligible to receive a COVID-19 vaccine, but recently a glimmer of hope emerged when Pfizer and BioNTech submitted a request for emergency-use authorization with the U.S. Food and Drug Administration for the vaccine for 5-11 year olds.
The vaccine could be available to children under 12 in late October or early November, according to Scott Gottlieb, a Pfizer board member. 
The Pfizer vaccine has been proven to work on children based on clinical trials on 2,200 children. People ages 5-11 who take the dose will be administered 2 doses of 10 micrograms each, 3 weeks apart from each other. This is one-third the amount of the 12+ vaccine. The vaccine for ages 5-11 will have similar or less severe side effects than the 12+ vaccine, according to Brenda Goodman from Web MD.
Many parents across the country are probably wondering, "Will this vaccine be safe for my child?" 
There actually could be many potential side effects. The vaccine makers said the side effects for children would be about the same as those for teens and adults, including fever, nausea, swelling at the site of the injection, arm sores, etc.
Forty percent of parents said that they would wait and see the side effects, even though it fights Covid-19 in the same way as the 12+ vaccine, according to Apoorva Mandavilli from The New York Times.
The vaccine was tested on more than 2,200 kids, however, was found to be safe and effective.
Sanya, an 11 year old on the Champions Team said she would feel safe taking the vaccine.
"I can go outside more freely and can also take my mask off outside," she said.
Nurse Practitioner Aisha Keplinger, who works for a local Inova facility, believes the vaccine will be as effective on young children as it is on teens and adults. She says that the only thing that will change will be the amount of dosage administered.
She said vaccination in children ages 2-12 has the potential to have a huge impact on the country for several reasons.
"The more people who are vaccinated, the less the virus can spread," she said. "At present, there are several hospitals across the country that are overburdened, and having to turn away patients. This poses a threat not only to COVID patients, but any patients who require care in a hospital as there are not a sufficient number of healthcare providers to care for them." 
This new approval would make about 85% of the U.S. population eligible for a Covid-19 vaccine, according to Amanda Sealy from CNN.
Clinical trials are already underway for ages 6 months to 4 years, according to WDRB Media. Soon 100% of the U.S. population would be eligible for the Covid-19 vaccine.
"I'm camping out at CVS the second that it comes out," says Arya Reddy, an 11-year-old from the Legacy Team. "I've waited too long."