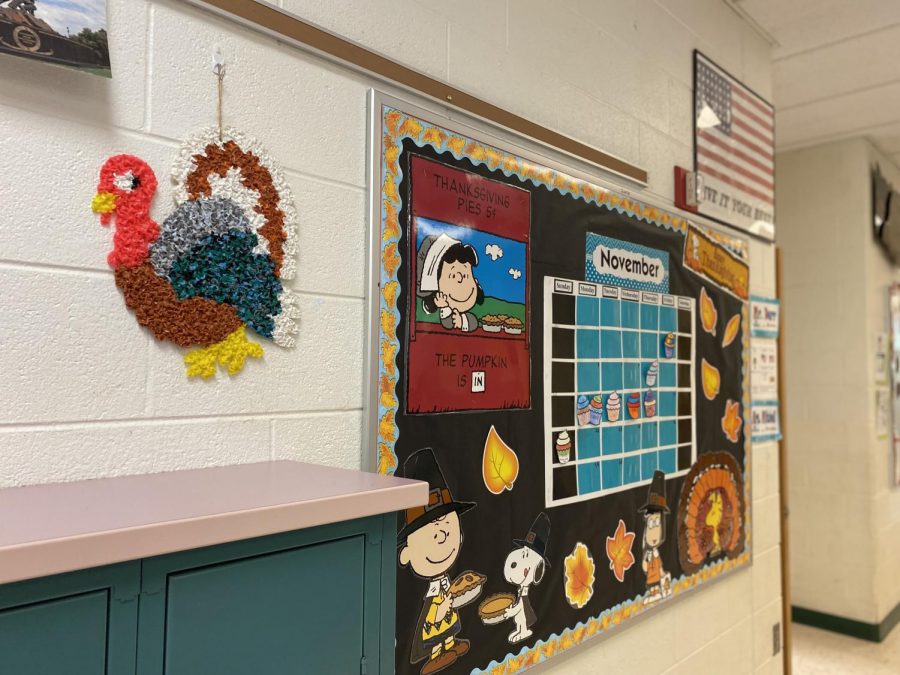 As the spooky season comes to an end, Thanksgiving season is nearing at RCMS. Students and teachers are getting ready for traditions, but Covid-19 precautions are still uncertain and different families are on their way to celebrating the holiday uniquely.
"Our Thanksgiving traditions are really fun," said Sharron Clifford.
Mrs. Clifford, a seventh grade history teacher for the Trailblazers, has special plans with her family. She plans on going to Galax, Virginia, to celebrate Thanksgiving with distant family.
Her family has a very special tradition called "Snacksgiving," which is celebrated on Thanksgiving. She described it as eating lots of snacks such as wings, sandwiches, chips, and dip while watching football and playing family games. She mentioned that the snacks roll in and are replaced all day. She celebrates a "sit down" Thanksgiving on the Friday following. 
Mrs. Clifford's plans haven't changed much this year, unlike last year when their family road trip was canceled. She and her family all feel comfortable without masks due to most or all of them being vaccinated.
"We're still at a point where you can't feel 100% safe so I would say I feel pretty much like a nine [out of 10]," she said. "My family is vaccinated and we pretty much just kind of stay with the family so I feel like it's much safer than it was this time last year."
The CDC recently set their suggestions and recommendations. They recommend that young children are protected, whether that means social distancing, wearing masks or staying with family members. If possible, get vaccinated but if not, get tested before meeting with others, especially young children and seniors and before traveling.
Libbey Leon-Guerrero, a seventh-grade Champion, has plans on hosting family this year. They usually go to Connecticut, but they can't this year for unrelated reasons. All her family has been vaccinated and no plans have changed thanks to that.
When asked about what she thinks of non-mask wearers in large groups, she said, "That, I feel, can be insanely stupid even if it's outside. As long as everyone is vaccinated and hasn't been exposed lately it would be ok, but if not then they would definitely have to quarantine for at least two weeks."
If traveling, the CDC suggests taking direct flights to your destination to minimize contamination and have more control and ability to track the possible remnants of the virus. A Pew Research Center study last year concluded that 57 percent of Americans adapted their Thanksgiving plans due to the virus.
Sahana Komanduri, a seventh-grade Trailblazer, spends her usual Thanksgiving at home or at her cousin's house. She has a Thanksgiving brunch at Silver Diner. However, this year is different. This year, she's going to Chicago to visit her cousin's house. This year, she doesn't plan on changing much except wearing masks and social distancing on her trip to Chicago. 
She says she feels like a five out of 10 on her plans because, "I wanna stay home for my birthday and Thanksgiving."
Her birthday happens to be the day before Thanksgiving, but according to her it doesn't get merged with Thanksgiving. She's looking forward to not having any school.
"We usually just stay home with family and eat," said Akhil Patil, a seventh-grade Trailblazer, when asked about his usual plans. He says a traditional dinner for his family is turkey, mashed potatoes, cranberry sauce and stuffing. He is spending time with his close family this year as per usual for him.
"Stuffing," said Akhil when he was asked about his favorite part of Thanksgiving. "Thanksgiving going to be super fun, while still being safe."