Need a book? Here are some recommendations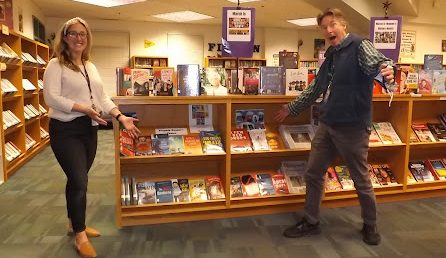 RCMS library has wonderful books everybody can read. Recommendations from other people are a good way to find the right books and to learn. Here are some recommendations by our librarians, one of our teachers and students to help you find the right book for you.
Some students say they don't like reading but there will always be a book for them. For instance there will always be a book about what they like to do or like to watch, sports, games, computers, graphic novels, romance, quick reading, etc. Mrs. Donovan and Mr. Treakle try hard to make sure everyone is represented and if they are not represented they want you to let them know. 
"It is important for students to know that even though they think they don't like reading, there is something here truly for everyone," said Mrs. Donovan.
"For the people who don't enjoy reading," Mrs. Ross said, "You just haven't found the right book. Keep looking. Keep looking and if it isn't the right book you should write it."
Mrs. Donovan's recommendations
Elizabeth Donovan, an RCMS librarian's favorite genre is realistic fiction. One of the books she recommended is The Ash house. She also recommends some of the Virginia choice books. From the choices one of  her favorites is Genesis Begins Again by Alicia D. Williams, a realistic fiction book. The book is about a teenage girl growing up in Detroit Michigan where she is going through a hard time. Her dad keeps struggling to find a job so they have to move a lot because he has been fired frequently, and she has to restart her life with different schools, friends and more. 
Mrs. Donovan also loves the book called The Remarkable Journey of Coyote Sunrise, by Dan Gemeinhart, a realistic fiction book. It is about a girl where she and her dad are going on a journey in a crazy bus. She is trying to get her dad back to her town before the park that she grew up in is demolished. She values the park because she and her sister buried a memory box with their mom. 
Another recommendation she gave is Charlie Hernandez and The Legal Torn, by Ryan Calejo. The main Character is funny and crazy. Things happen to him because he is a myth. He is growing feathers and horns popping up from his head and he doesn't know what is going on.
Mr. Treakle's recommendations
One of Kirk Treakle, an RCMS librarian's recommendation is Bomb which is a narrative nonfiction. It is about the aircraft that were going on with the nuclear bombs. The Germans were neck-to-neck in developing the bomb with Americans. The Germans could have easily made it first, but the Americans did, w What happened? The book will tell you how they jumped from airplanes, skiing and spying. Spays couldn't be seen together or else people would figure out they are spies. They left cods and marks to communicate. The Soviet Union had spies and they worked with the Amircans during World War II. After WWII they became our adversary. In addition, the book tells you how the Soviet Union got bomb after WWII.
"They are well written and they keep my attention. They are exciting to read and you don't know what is going to happen. Keeps you on the edge of your seat and whether it is nonfiction or fiction you learn from it," said Mr. Treakle.
Fallout is about after a few years from WWII. It happened in the 1950s and early 60s. It was called the Cold War because there weren't a lot of active fighting between the Soviet Union and America. There were no battles but there were attractions because the Soviet Union brought nuclear missiles to Cuba and their allies. The nuclear missiles were pointing to U.S Florida by 90m, from Cuba.
 Okay for Now, a novel by Gary D. Schmidt is one of Mr. Treakle's favorite books. The book takes place in the 1960s. It is about a boy in middle school, specifically eighth grade, where he lives in New York with his dad. His dad lost his job and they have to move to a small town. The boy didn't like the idea of moving and his older brother is a jerk who steals stuff. All of his teachers think he will end up like his brother. He goes to the library even though he doesn't like reading. In the big book he is reading he found pictures of plates missing. He tries to find the plates. During that a lot of things are happening like Apollo 13.
"It is a great book because it is on all different levels," said Mr. Treakle.
Mrs. Ross's recommendations
Kelly Ross, an RCMS English teacher, suggests people read Moth, a serious poetry novel, by Amber McBride. This book is a coming of age novel  and ghost story in verse form. 
Another suggestion she has is Firekeeper's Daughter, a novel by Angeline Boulley. Trials and investigation of the dead. This book is realistic fiction and mystery. It's about a girl who is a suspect in a trial.. 
One more fiction recommendation would be a book called Pet, which is a fantasy novel by Akwaeke Emezi. Pet is a creature that magically escapes from Jam's mother's painting. The Pet , the creature, helps Jam find the monsters.
"I like books that have a magical element to it," said Mrs. Ross. "It definitely creates this magical world that is just wow." 
Although she likes fiction, a good nonfiction book she recommended is Unbroken: A World War II Story of Survival, Resilience, and Redemption Book by Laura Hillenbrand. It is about an Olympian, who became a naval airman,  is in shutdown and is taken as a war prisoner by the Japanese in WWII. It is a story about how he survived. 
Into Thin Air, by Jon Krakauer, it's a true story about Jon Krakauer, a journalist, who was embedded in a mountain with one of the teams. A big storm hits the heaviest mountain.
Ama's recommendations
Books she recommends are The Keeper of the Lost City, by Shannon Messenger, The Lunar Chronicles, by Marissa Meyer, and The Thing About Jellyfish, by Ali Benjamin.
"Don't push away books," said Ama, "you are missing it."