The Willow Project grows increasingly controversial and helps students to go the extra mile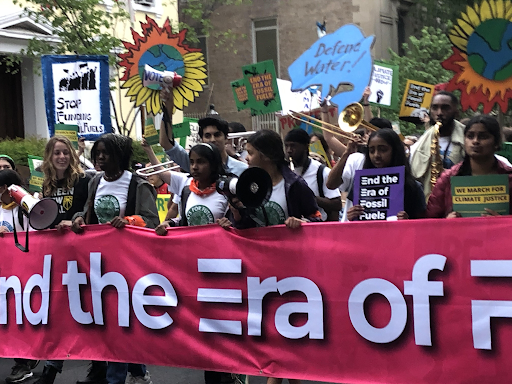 The Willow Project pushes student activists a step farther with their projects in building awareness.
"I was kind of shocked when it was approved," said Ariya Lee, an eighth-grader on voyagers.
There is a climate action group that meets after school on Wednesdays called Going Green at RCMS. This club is focused on taking care of our environment in the community. Going Green mainly focuses on local action issues but many students in Going Green are also focusing on spreading awareness about the Willow Project and its effects on the environment.
Ariya Lee called Going Green (along with the other climate action groups that she is a part of) a "great way to see youth who are interested in the same things as me."
This subject is very controversial. According to Environment America, the project is run by ConocoPhillips. The Willow Project is the biggest oil drilling project on federal land. This takes place in Alaska in a region with permafrost. Permafrost is melting causing drilling in the arctic to cost more (this project costs $6 billion). So the plan is to freeze the melting permafrost so they can continue to drill. 
"No matter how careful they are, it has an effect," said Mr. Kirk Treakle, our school librarian and the teacher in charge of the after school club Going Green.
Currently, greenhouse gasses take up about 0.04% of the atmosphere. The main greenhouse gasses are nitrous oxide, carbon dioxide, methane, and ozone. The dry air in the atmosphere is mostly made up of oxygen and nitrogen. The water vapor in the atmosphere is 0.25% on average. Greenhouse gasses can absorb the thermal radiation around them.
"Climate change isn't a joke," said Ariya Lee.
Then there is another group at Rachel Carson that is called Friday's For Future (FFF). Inspired by Greta Thunburg's FFF that she started, this group meets every Friday morning in front of the school trying to get people to join them to spread awareness about climate change. 
"I think the biggest thing is – do your research," said Nethra Purushothaman. Then added, "After that advocate."
Already we have a carbon footprint each year from our different ways of transportation, to our own personal energy use at home with different appliances and forms of energy. This project will add 9.2 million metric tons on top of that every year to the atmosphere. 
"This is where we sort of choose where we are going," said Ariya Lee.
It also takes place on the biggest piece of land in America that is undisturbed. There will be roads and other infrastructure built to transport the equipment needed for the Willow Project. That could cause habitats to be destroyed and that impacts both the animals and humans because it is where the animals live and the people who live there rely on the traditional hunting styles that they have used so much. It is also possible for there to be many health problems from the toxic gasses being added to the atmosphere like kidney problems, cardiovascular problems and chronic respiratory issues.
On the other hand there are opportunities that come from the project as well.
"It produces a lot of jobs," said Nethra Purushothaman, an eighth-grader on discovery.
Which is absolutely true. The Willow Project could produce more than 2,500 construction jobs. There are also some long-term jobs that are possibilities. It is estimated that there could be around 300 new long-term jobs from this project. Which is very important for many people, especially because of how many people are unemployed (about 5.7 million just in America alone).  So this could be beneficial to many people. 
"I think there are two sides to the Willow Project," said Nethra. Then later added "In that sense I think it's not worth it," when talking about the carbon emissions caused by the project.
"Paying close attention to how we use food and energy is very important," said Mr. Treakle.