25 years at RCMS: The show must go on
Mr. Bickford is going the to be the last original Rachel Carson teacher next year.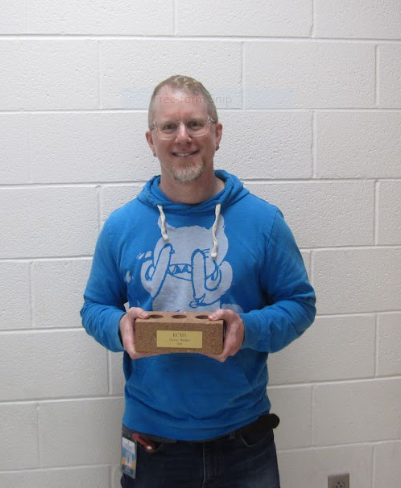 "I hope people feel that this is home for them because it has been for me for the past 25 years," said Mr. Joshua Bickford, Rachel Carson Middle School's Theater Arts Director.
Mr. Bickford is the theater teacher for both seventh and eighth grade at Carson. He has been teaching for 30 years in Fairfax County Public Schools. Before teaching at Carson, he taught at Franklin Middle School and Whitman Middle School. His first year of teaching he taught English, but then moved straight on to teaching Theater. He had planned on teaching Theater all along though. 
"I like seeing students who come in shy at the beginning of the year and then blossom on stage," said Mr. Bickford.
Mr. Bickford first got into theater when he did school plays in elementary school, along with a summer camp that he started doing early in his childhood, called Adventure Theater in Maryland. He ended up continuing with that camp for so long that he became a camp counselor and started directing shows there when he was just 16 years old. 
"He's a great director," said Ellie Norris, a seventh grader on Legacy.
Mr. Bickford went to both H.B. Woodlawn and Washington and Liberty for high school, which are both in Arlington Virginia. He also said part of his inspiration — if you call it that — was his theater teacher in high school, who he did not consider to be very good at her job. He knew he could do better than she did and students of his would say he was right about that.
"He cares about his students," said Ellie.
Which was abundantly obvious from the way he spoke of his students and the opportunities he gives them in class. For example, one of his favorite shows that he has directed was called "Mermaids, Monsters, and the World Painted Purple." It was exciting to do that show specifically because it was fairly new, so RCMS was one of the first schools put on that production. In that show, there was a student who Mr. Bickford let add some original songs to the show. 
One of Mr. Bickford's favorite things about teaching theater is "Seeing the people up on stage in front of an audience for the first time."
It is also very clear that he cares about the people around him because of his involvement in social justice in this area, specifically for LGBTQIA+ students at Rachel Carson. Mr. Bickford sponsors the Panther Pride after school club at Carson. It was meant to be a safe place for students of the LGBTQ+ community to be around people who understand them.
Mr. Bickford said he had first sponsored it for students to feel "seen, valued, heard, and protected." 
Another way he includes students who aren't in his classes is by doing collaborations with art classes and digital art classes for anything from props or sets to the background that was made digitally. In the play Freaky Friday there was a collaboration with the advanced digital art class where the students in the digital art class made the backdrop (s) for the play. 
"Most of them are nervous but they rise to the occasion," said Mr. Bickford.
Ellie Norris said this about class with Mr. Bickford, "I typically feel really happy and just free."