SCA: From T-shirts to trampoline parks
Hang on for a minute...we're trying to find some more stories you might like.
The newly elected Rachel Carson SCA officers for 2017-2018 have plans for the future, and perspectives on their past — from T-shirts to trampoline parks.
The election in fall 2017 was competitive and featured some uncommon campaign techniques. Ethan Woidka's campaign was one of the more unusual ones — more than just a poster and a speech, he presented the school with new ideas.
Kids were wearing "Vote for Ethan!" T-shirts. Hallways were nearly filled with seventh and eighth graders wearing safety pins  saying "VOTE 4 ETHAN." His campaign members carried gallon size ziploc bags filled with "VOTE 4 ETHAN" pins and they handed them out to anyone they came across. In the morning his campaign members stood in the hallway handing out pins and shouting "VOTE 4 ETHAN."
"My dad told me how he made pins and how he won when he made pins," Ethan said. "He also suggested I got a campaigning team of one or two people but I got 12 people," he says, explaining the origin of his idea.
"One of the most important things to do while running is to let people know your running," said Jaeya Taxali, a representative who made shirt pins while running for representative of the SCA. "Most people don't even know half of the candidates were running," said Jaeya. "I feel like if I hadn't made pins and told people that I was running I wouldn't have done nearly as well."
But once the officers gained entrance to the office, they had to think about what would come next.
SCA's plans for the future
The SCA has many plans for the future to help the school and community. On Monday, Nov. 20, there was an SCA meeting to gather all the food from the annual food drive. All of the electees were at the meeting.
Jack Wolf, a seventh grade officer, has many plans for the future of the SCA. "Unite for common issues," he said. Many fundraisers will happen in the future, he added.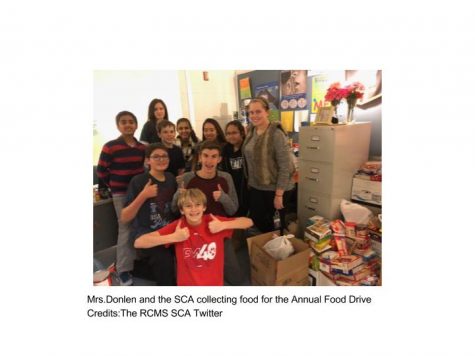 Ethan Bower, another new officer, also had ideas. He revealed that the SCA had plans to do something celebrating Carson's 20th anniversary. It would be a week of fun events where one night they might go to Chipotle or another restaurant along with some fun activities throughout the day.
One example of a fun activity they thought about was going to a trampoline park.
As Jack Wolf says, the SCA wants to "fix things people actually care about but the administration does not have time for."