School storage: A battle between backpacks and lockers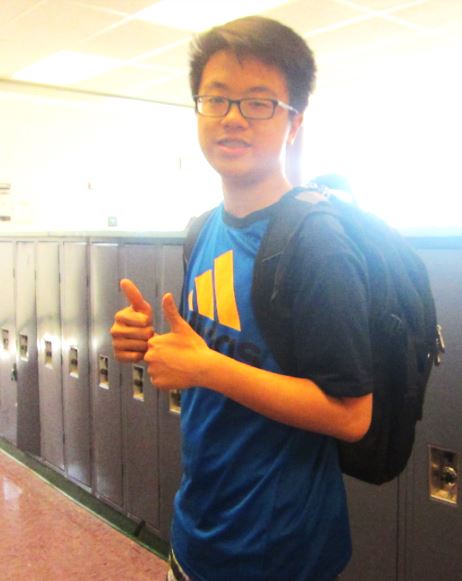 Hang on for a minute...we're trying to find some more stories you might like.
Backpacks are a good way of holding your stuff, but so are lockers. In elementary school, hooks have been used to hold your backpack, but Rachel Carson Middle School has decided and developed a system that doesn't include this. Instead, they use lockers.
Rachel Carson uses a mixture of both backpacks and lockers, except backpacks are not allowed to be carried in the hallways or in class during the day. The only time students are allowed to use backpacks is in the morning and afternoon.
"I think the combination works," said Ms. Christine Oh, an assistant principal here at RCMS.
Ms. Oh explains how having the mix allows the hallways to be clear during the day allows for people to move freely without backpacks taking up space. The only exception is at the start and end of the day, when students bring their large backpacks around to carry items to and from school. This includes binders, textbooks, books, and more.
"There will always be items students need to bring," said Ms. Oh, "Imagine having to carry all that, and for some students, a lunch too."
In the hallways, students find others being annoying with their backpacks, and having them take up space carelessly. "The whole point of backpacks – to carry stuff," said Joshua, an eighth grader at RCMS. He thinks that backpacks are helpful to everyone, but lockers should only be shared by students who are mature enough, such as middle and high-schoolers.
Even with mature students having lockers at their schools, Kyle Whitlock, a seventh grader at RCMS, believes that his possessions still aren't being respected. "Someone stepped all over it, they don't respect property," Kyle said. The items inside the backpack had gotten crushed by the shoes of other students, as if it had rained cats and dogs on top of it.
To fix this, students want hooks on the walls to hold their backpacks, instead of having lockers. This would give the school more money to spend in places of need.  "We could use it more on technology for the school," said Ms. Oh, who also explains that the teachers have to rotate technology instead of having their own to keep for themselves.
Kyle also believes that RCMS should use hooks, because in his eyes they would secure your belongings better than a locker. Backpacks on the hooks would keep the items inside close by, and off the ground. "If we actually had good computers, the loading wouldn't take a year," Kyle said. This is a popular belief among many students, and is a well known fact for most.
Except replacing lockers with hooks would remove another place to store your stuff. Some people need the extra space, such as Joshua.  "Life would be a lot harder than if we didn't have lockers," said Joshua. He enjoys having a locker, because he doesn't like the idea of having to lug around all of his items everywhere.
If we didn't have the lockers, there would then be a security concern. Some people believe that backpacks should have locks, and others don't. "If it's too secure, it'll be a hassle to open it," said Kyle. He finds no struggle of opening a lock, but that it is annoying nonetheless. However, Joshua thinks that combining the two ideas would be the first step to improvement.
Installing hooks instead of lockers is one thing that RCMS can do, however many students still agree that both lockers and backpacks are needed. Ms. Oh said, "I think they're equally important."