Electives: Creative gateways
Opportunities for students to learn about themselves.
Hang on for a minute...we're trying to find some more stories you might like.
Family & Consumer Sciences, Tech Ed, 3D Art, and many more. These are just a few of the many electives at Rachel Carson Middle School.
"Electives give students an opportunity to explore their passions," said Ms. Stacy Kirkpatrick, director of student services.
There are a wide variety of genres to choose your electives from. Our school offers classes related to Career and Technical Education, Fine Arts, a few language options, and support classes. Each category has more specific courses, such as Drama in the Fine Arts section.
"It's something to get excited about in school," said Anvi Padiyar. "I like being able to choose my classes."
The ability to make decisions is part of maturing. Choosing your classes helps you gain more control over your life and practice making what some would consider long-term choices.  
"When I think about electives I think back to my middle school experience, and we had to take Tech Ed, we had to take FACS, and we had to take art," said Ms. Kirkpatrick. "We had to go through those rotations, and we had to take all three in one year. I think it's good for kids to get some other skills that they might not get otherwise, as well as explore passions that they might be able to develop further in the future."
Anya Parekh said, "There are classes that help you explore different personal interests and hobbies. For example, if you like art, and you like computers too, you can combine those and take Computers in Art."
Ms. Kirkpatrick said she tries to place students in a range of interesting electives.
"I like you to pick what interests you have, and what alternate interests you have, because I can't give everybody everything that they want," she said. "If everybody walks in here and picks Chorus and Tech Ed, and Spanish 1A, there's no way I can get that many teachers in those few electives. I want you to take what's gonna make you happy. To me, that's like your creative downtime."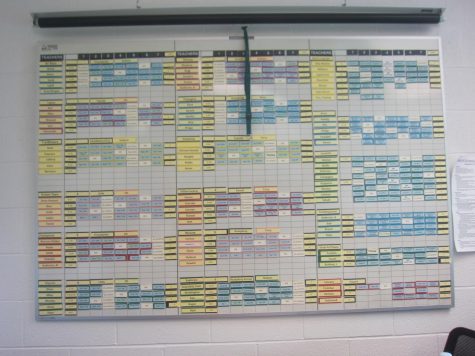 Many factors are taken into account when deciding which courses our school will offer. The administration can talk to feeder elementary schools as well as other middle schools to see what students are interested in. If a certain number of students are interested in a particular subject, the school has to make the decision of whether or not they'll add that class to the options for the current or following year.
"We have a core option set that's available countywide, so that's where we start, " said Ms. Kirkpatrick. "From there, we look at what choices our kids might enjoy."
Anvi Padiyar said, "I selected [a course] as one of my least favorite elective choices, but I got it, and I was actually kinda surprised by how much I enjoyed it. Not always getting your first choice isn't such a bad thing 'cause you can always adapt and start to like different things out of your comfort zone."
Another factor to take into consideration is the number of teachers available for each subject. If there are 700 students interested in art, and only two teachers, not everyone will be able to take the art class. That's why we give our first four preferences.
Each class can teach you something that will stay with you through life. You never know when you'll need to know something, and those skills may prove more useful than you anticipated.
"I look back, that's the only sewing experience I've ever had," said Ms. Kirkpatrick. "I can hem my pants now, I know how to make little things. I know how to sand, and use tools, and build things, because of Tech Ed. When you look back at those experiences, just those short middle school experiences gave me some extra tools that I was able to use just doing my laundry and cooking."
Most Fairfax County middle schools don't offer very many electives. Carson does. For example, Carson is one of the few FCPS middle schools to offer Journalism as an elective, but in high schools, there are many more options and opportunities. Many more languages,learning more in-depth with the arts, English/writing, Family and Consumer Sciences and technology.