Fortnite epidemic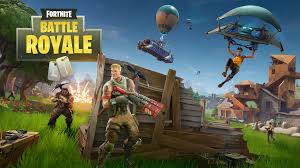 Hang on for a minute...we're trying to find some more stories you might like.
Fortnite is a popular game that students are currently playing throughout Rachel Carson Middle School because it teaches students about strategy.
"I play Fortnite because it's fun, and I feel like I can play a game without being grossed out, and whenever I play, I feel like I'm trying to beat the person in front of me," said Andie Miller, a student on the Majestics team.  
Students love playing Fortnite, or watching videos from Fortnite on Twitch. Today, 65 percent of American households have at least one person who watches or plays Fortnite for at least three hours a week.
Fortnite is described as a cross between Minecraft and Call of Duty. It started as a cooperative four-player game set in post-apocalyptic Earth where you have to gather supplies to stop zombies.
"I'm not repulsed," said Andie Miller.
Fortnite was inspired from the Hunger Games and a Japanese game called "Battle Royale," which inspired the creators to create a version of the game called Battle Royale.
Battle Royale is a version of the game where players jump off of the Battle Bus, a bus that flies. When they land, the 100 players are stuck on a small island.
"The players have to escape from a storm that surrounds them and gets smaller. It's a lot of fun," said Andie Miller.
Some students do not like playing Fortnite. Student Hayley Pinã on the Legacy Team is an example of this. "I do not like Fortnite. It's not what I like to do, and too many people play it," said Hayley Pinã.  
"Fortnite is really pointless. I don't understand why people play," said a student on All-Stars who would like to remain anonymous.
"I would try to play it, but quit if it got too hard," said Rava Knight, a student on Legacy.
Tyler Blevins, a famous YouTuber known as Ninja, earns $500,000 a month from being the most popular user on Fortnite. Many students watch his games on Twitch.
Fortnite has been known to stop kids from doing their homework.
"To be honest, I have been playing Fortnite rather than studying for my tests and doing homework," said Andie Miller.
Players in Fortnite can dance to songs from Scrub. These popular dances are inspiring students to dance to these moves. Also, players can dress up in fun costumes like astronaut helmets and dinosaur suits. These features cause the game to be fun and bright.  
Because the games are full of humor, the game is much "easier to stomach." The game is not very gory, and parents may put parental controls on the game if they would like. Also, to enhance the game, you can visit many different places, including tilted towers and other places.
Players may pick different items around the way, including armour, healing potions (juice), traps, liquified armour, bushes to hide in, wood, metal, campfires, launchpads, med kits, port-a-fort, and shield juices.
Andie Miller will continue to play Fortnite. "I really like it. It's fun, and it does help that's it's free."