RCMS basketball game coming soon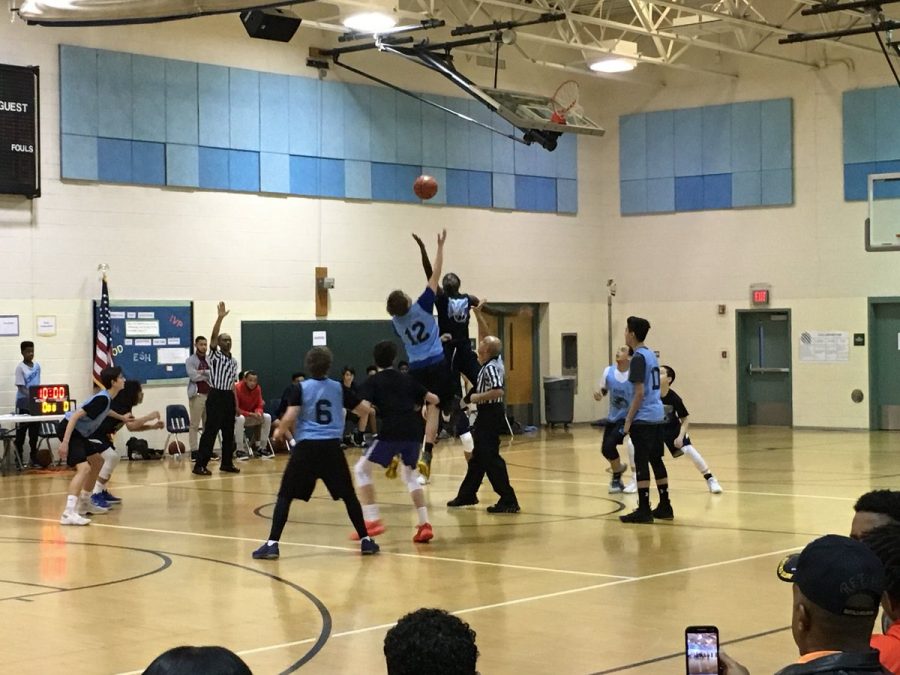 With the stands packed with hundreds of people watching hyped up teams play at the first RCMS basketball game last year, the students of Rachel Carson Middle School are eagerly waiting for this year's basketball games against Lanier Middle School next semester.
"They do have tryouts to get the spots on the team," said Ms. Annemarie Wolfe, RCMS health and physical education teacher, "and Ms. Lohman is usually the coach."
Tryouts will take place at school and will start a few weeks before the game. They are usually run by Ms. Stefanie Lohman, RCMS health and physical education teacher, who is also the coach for the three teams. Ten players will be selected to play on each team after the tryouts process is over. The big game is scheduled to take place on Friday, March 22, 2019, but Mr. Adam Pawlowski, the RCMS after-school specialist, is still waiting on the confirmation from Lanier Middle School.
The seventh-graders this year will most likely not have a basketball unit in their gym class, so this will be a way for them to play basketball with their friends and for their school.
"There are tickets," Mr. Pawlowski said. "They are five bucks and concessions are there too with all kinds of snacks."
The games have all kinds of things to look forward to if you are into sporting events. There are concessions for you to enjoy while watching the game, a big crowd of an anticipated 400-500 people to watch the game with, and six teams, from RCMS and LMS, who have practiced and worked hard for these games.
"You have to listen to RCTV for tryouts for the girls team, the boys seventh-grade team, and the boys eighth-grade team," said Mr. Pawlowski. "They are usually three weeks before the game."
RCMS didn't get many girls to try out for the team last year, so only one team was formed, with seventh and eighth grade combined, and it is planned to be the same this year as well. All three games will take place on the same day in Rachel Carson's gym and will each be 20 minutes long.
The 2017-18 basketball game was the first school game at RCMS. Rachel Carson Middle School played Langston Hughes Middle School, and the RCMS seventh-grade boys team stole the win in game one with a 12-point lead. In the eighth-grade game, the score was 11-10 at halftime, in favor of Langston Hughes. The RCMS eighth-graders were close, but in the end, LHMS won the tight game 20-19, with only a 1-point lead. The girls game was the tie-breaker, in which Langston Hughes won by two points, 15-13, and they took home the final trophy.  
"The eighth-grade teams were very close in competition," Ms. Lohman, the coach, said, "there's nothing different that the students could've done."
Ms. Lohman was happy with the way the basketball teams played last year. She just believes that if they had kept fighting for the win, the games would've turned out differently, in Rachel Carson's favor. For the future teams this year, remember to play your hardest, compete and never give up.
"I love the game of basketball," Ms. Lohman said. "I love playing, watching, and coaching. It's so fun to be involved especially with the students from RCMS."
Ms. Lohman is a very spirited coach, and she truly loves the game of basketball. She also coaches the teams because she believes it's special to play for Rachel Carson Middle School and it's great to be a part of it. Not only that, but Ms. Lohman loves to win. She says it's much more fun than losing, especially when the game is close.
From the looks of it now, Rachel Carson Middle School has a big event planned for all sports-lovers and students, parents, and staff who want to bring their energy to the second annual RCMS basketball game.