Trends: changing minds and worlds
Looking around, students see different clothes and shoes and smiles. Is there some type of clothing stereotype kids go along with? Turns out, there is. 
"I think some types of trends are marketed to be stylish, and people buy it because they see those styles everywhere," says Mrs. Elena James, a head ESOL teacher at Rachel Carson. "It's all about marketing it to be stylish, and cool-looking."
According to interviews and a survey of 69 seventh- and eighth-graders, cold shoulder tops and short tops are popular. Short tops are cut just at the waist. Preppy fashions like laced-up tops, and nude colors with toned down neon can give you a bright look. Sweatpants are super comfy for "slackers," as kids call them, and can give you warmth during the day, especially when it's cold and muddy outside.
Tight-fitting and ripped jeans came as number one on our charts with 32.2 percent votes in the survey. Large hoodies and branded sweatshirts are popular for both girls and boys, and are the go-to style for cold weather.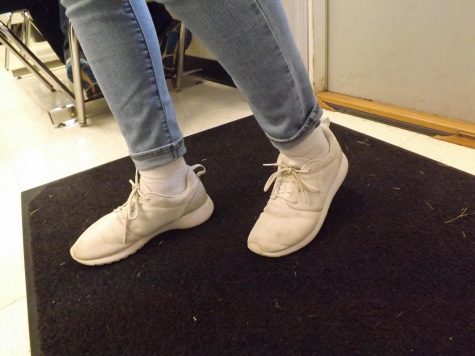 "For summer, when the sun is burning up, short shorts are cute, comfortable, and I love them!" says a seventh-grader from the Trailblazers team at Carson. Loose fitting tops with denim jackets can be a great look for summer, along with long, short sleeved T-shirts, say many middle-schoolers.
Shoes play an important part in middle school fashion. The most popular color in shoes was white and black, according to our survey. As votes tallied in, it was almost an 82 percent voted that Nike was the most popular brand for shoes, but Converse and Vans followed as second. Uggs and Ugg-style boots are popular, and seen around by many kids. It was almost a unanimous vote among teachers that we interviewed, that most girls were seen wearing Ugg boots, especially during wintertime.
"I think the trends are really similar to when I was a middle-schooler," says Mrs. Elizabeth Donovan, one of the two librarians in the school. "I went to middle school in the mid-90s. We didn't really pay attention to that kind of stuff, and I feel like kids, especially girls, are more fashionable now, than we were back then."
In the mid-90s, kids wore the same "grunge" style clothing like ripped jeans.
"I think that since the trends are so similar, the trends will soon change to shiny millennium clothing, because that was the style in the late 90s," says Mrs. Donovan.
As a head librarian, she sees mostly all the kids in the school.  Mrs. Donovan predicts that since the cycle of trends has been so similar lately, the fashions will soon change into millennium, shiny and over-the-top clothing styles. 
High costs
In a survey we conducted, Vineyard vines, Nike and Hollister were the top three clothing brands. The highest two were Hollister and Nike. This shows true for their stocks: Over the last five years, the Nike stock has gone up 35 percent. Nike reached an all-time high in September of 2018, right in the middle of back-to-school season. Abercrombie and Fitch stocks (the owner of Hollister), also had a raise in August, just around the corner of back to school. Since then, they have fallen 10 percent. For Vineyard Vines, their company remained privately owned.
"These trends have given kids pressure to fit in," says Ms. Rachel Bisaga, an eighth-grade English teacher on the Voyagers team.
The rate of mental illness has gone up since 2007, at a 36.2 percent of student anxiety, compared to the 50.6 percent in 2016, according to the American Psychological Association.
"I do think that kids follow their friends, absolutely, because I think it's out of need for acceptance," says Mrs. James. "Especially at this age, middle-schoolers think that they need to make friends and everything, so for the need to be included in a group, they don't want to contradict others' opinions."
Not only do these trends affect kids, they affect their parents as well. Seeing these clothes and styles everywhere, kids will naturally demand a few sets of their own. However, these clothes don't come at a cheap and low price. Hollister hoodies come at $39.95 for girls, and $24.99 for boys. As for Vineyard Vines, one women's long-sleeved T-shirt comes for $49.50, and one boy's T-shirt comes for $29.50.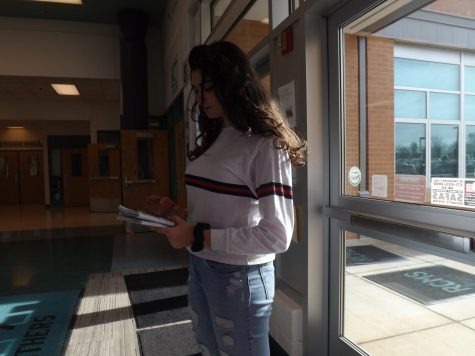 "It can be stressful for the parents financially, for their kids want to constantly update their clothing," says Mrs. Bisaga.
Students as well as teachers think trends affect mental health. Francesca Mangano, 12, of the Legacy team, believes that mental health can be affected. "I think that sometimes, trends can change people's minds, because there would be some pressure to be trendy. If you're not wearing some trendy clothing, they might be afraid."
Fashion industries often hire models to pose with their clothing on, and post pictures of the model as a source of advertisement. However, especially teen girls, look at the pictures and start dieting, and doing other procedures to make their body like the models'. Sometimes, the procedures can result in an unhealthy body, and eating disorders. The reason teens change their bodies is because they have the metal mindset that their body needs to be like the model's body in order to look good in the clothing the model wears.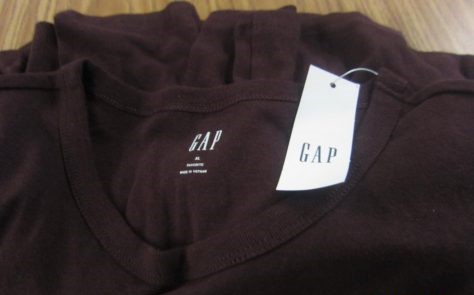 "Trends can certainly be good once in awhile, and it's totally okay to want trendy clothes, and wear them too, but they shouldn't divert your focus, or affect your mental health either, like I'm seeing," Mrs. Donovan said.
"As I said," she added, smiling, "kids are way more fashionable these days."