A look inside: RCMS's ESOL students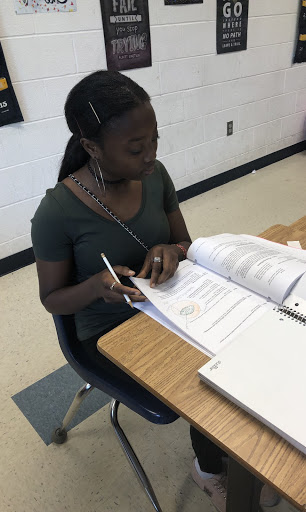 RCMS twins Jerry Dunn and Kemberline Dunn came from Africa to learn, get a better education, and be with their parents. They came at different times; Jerry came in 2015 and Kemberline came in 2017. For both, communicating is not a difficult thing, and ESOL classes at Carson have helped.
"Our common language is English, so they all strive to know English," said Mrs. Elena James, a seventh-grade ESOL teacher.
There are nearly 5 million ESOL (English for Speakers of Other Languages) students in the U.S. Public School System. ESOL students come to the United States from different countries, and most of them cannot speak English. In RCMS, ESOL students are put in a separate class from other students and receive more attention and instruction from the teachers. ESOL students' curriculum is designed to help learn at a pace better for them but still learn all the information necessary to graduate. According to FCPS's website, "ESOL services prepare students to be college and career ready by developing proficiency in the English language."
"I was nervous when we have to give like a presentation, and now I feel really comfortable and that is not a problem anymore," said Kemberline Dunn, a seventh-grade ESOL student. Most ESOL students were nervous when they first got here given they were in a new environment and with a different culture. But the teachers and other students made them comfortable and they adjusted quickly.
There are six levels of English fluency a student could have, from only being able to speak "single statements or questions," to being able to give "rich descriptive discourse with complex sentences." According to FCPS's website, "ESOL course selection is based upon the English language proficiency level of the individual student." At the end of each grade level, students will be given a test to track their progress. Based on the results of this test, ESOL students will either move up a level (or more) or stay at the same level.
The Department of Defense Education Activity states, "The mission of ESOL services is to create a learning environment that encourages assimilation into the second language and culture while maintaining respect for and pride in their cultural and linguistic heritage."
For many students, the struggle isn't moving too slowly, it is moving too fast. They want to be somewhere where they aren't yet, and they will do anything they can to get there. While most science classes focus only on science, ESOL classes combine the learning of English and science.
Since English is not these students' first language, there is a certain level of processing going on. ESOL students must first translate the question into their language, think of the answer, and then translate the answer back into English. The more they speak and hear English, the easier it is to answer questions without much processing.
ESOL classes may be different language-wise but, according to Ms. James even though classes take time, they are "amazingly positive." She believes that the best way for ESOL students to learn is through hands-on activities.
Mr. Moosa Shah, a seventh-grade science teacher, says that he uses the same type of teaching style; he just goes slower. He says that they are only a couple of weeks behind.
"For ESOL students, science is not the most important thing," Mr. Shah stated. It's combined with other important skills.
Not only has the RCMS ESOL program helped many students with their education, but it might also have some part in making it easier to make friends. Kemberline and Jerry both say it isn't hard to make friends. Being in classes with students who are going through the same thing as they are helping them to be more open to being in a new country.
"I hope they leave with the feeling that they can do anything," Ms. James expressed.