Student activist speaks through poetry
Poet spreads the word that things will always get better in life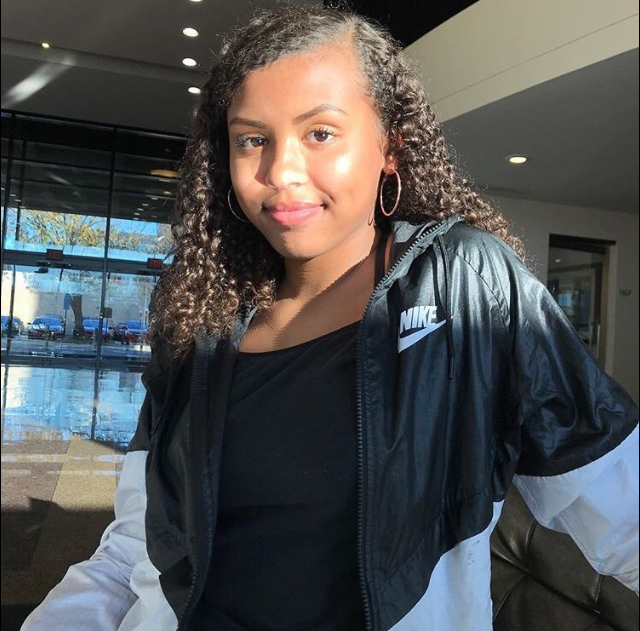 14-year-old Yar Deng on the Wolves team at Rachel Carson Middle School writes poetry to help out students who are struggling with personal or school-related problems.
"People come to me for advice," she says. "One of my purposes is to help other people."
No matter what issues they are struggling with, Yar uses her poetry to show people they are not alone.
"I use my poems to show the people who need help," says Yar, "[because] no one could help when I was in a bad place."
"I have seen how hard the situation is," she says. "One of my friends went down the wrong path — a path of drugs and a lot of bad things. … I realized it's not what I wanted for myself."
Yar says a family member made her feel bad about herself. "I lost my voice; it was her voice in my head telling me what to do."
To address this, her therapists told her to talk to herself more.
"I began to stop listening to others," she says. "I started doing things I wanted to do."
After reading the book "Milk and Honey," an anthology of poems by Rupi Kaur, Yar realized she could write poetry about her experiences too. She writes, "I found my passion for helping kids that feel alone with no one to help."
Yar says many people who come to her give up on everything and have no purpose in life. She says it's about learning from your own mistakes as well as other people's.
Mrs. Courtney Krsmanovic, the school social worker at RCMS, says Yar uses poetry to reflect on her life experiences and share messages on self-care.
"It's just so powerful," Mrs. Krsmanovic says. "We are all just completely taken aback."
According to Mrs. Krsmanovic, Yar's poetry will affect both students and adults alike. She says that Yar's poetry gives other people a true sense of what she's thinking and feeling.
"Her perspective is eye-opening with adults," she says. "It gives us insight into the teenage mind. She's incredibly deep."
According to Mrs. Krsmanovic, Yar is very articulate, mature and insightful.
"When kids are young, they think they have to be like certain adults," says Yar. "As they grow older, they realize that they have their own opinions.
"Adults don't know what it's like [to be a teen nowadays]," she says. "It's a lot different."
Mrs. Sybil Terry, assistant principal at RCMS and one of Yar's biggest supporters, got to know her at the beginning of the year. Mrs. Terry says that Yar's poetry will make other people think.
"I love her poetry," she says. "It's very heartfelt."
Yar believes her poetry will help kids realize they are not alone and that other people feel the same way. "[They need to know] it will end eventually," she says.
According to Mrs. Krsmanovic, Yar wants other people to know they are not alone. "Her hope is to empower and inspire," she says.
Mrs. Terry says that Yar wants people to realize when things get bad they are going to get better. "Yar is a survivor," she says.
Yar's eventual goal is to be able to publish her poems. She says when she has covered everything, she will get with Mrs. Terry to help her publish her poems.
"Yar has an understanding of what it is to do better and that helps others," Mrs. Terry says.
Yar is hoping to start an after-school club to help girls going through similar problems like her. She is trying to get girls who are interested to sign a petition. 
"[The club] is excellent," says Mrs. Terry. "Anytime someone wants to give back [to the community], I think that's great."
To students who hate poetry, Yar says, "You can't say you don't like something until you've tried it. If you put that wall of defense down, you can become honest with yourself. It helps you come to your fullest potential."
Yar plans to continue writing poetry.
"You don't need to have to have gone through something [like I did] to write good poetry," says Yar. "You just need to have the inspiration."
Yar and Mrs. Terry have been reaching out to publishers so Yar can publish her poems. "It takes strength to put yourself out there like that," she says. They have also been thinking about self-publishing.
"Yar has been blessed to be an intelligent, smart young lady," says Mrs. Terry. "Every day she tries to make herself better."
"Contradicting Confessions" by Yar Deng
When you make a confession you explain what bad you have done and how you feel about it
A Contradicting Confession would be lying when you confess
Saying the exact opposite of how you actually feel to prove not only to others but to yourself that you're not what society considers weak
The thing is you don't know you're protecting yourself
It's as if you're in denial
For example
Say you're talking about your childhood trauma with your therapist
You explain how horrifying your past is
Your therapist's jaw dropped to the floor so loud you respond with
It's okay I'm fine it's not a big deal things happen like this all the time
Your therapist is thinking to herself stating she will not allow herself to feel the severity of this experience
If she did it would cause her so much pain mentally she would have to feel the knife her family placed in her back physically
So saying she is okay is much easier than feeling the betrayal that would leave her so shattered beyond repair
I've been in therapy since 2017 and it teaches a whole new world of things
Once I found my passion for helping kids that feel alone with no one to help
I realized that our brains and subconscious hold all the answers to our problems
We always think inside the box never trusting what's on the outside the unknown is not as scary or foreign as we may think it is
Every poem I make can be considered a contradicting confession
It may seem as if I'm really sad but maybe I've been sad for such a long time I make myself think negatively so I can't be the happiness that lies beneath
Or maybe it's just that I say extremely sad things to get the attention I so badly crave from my mother
That's the beauty behind it Contradicting Confessions can be so many things but you never allow yourself that extended insight
You see if we could turn off all the insecurities all the worries of what people think and just sit for a minute to come to the conclusion that everybody isn't trying to hurt us
If we could put that wall of defense down and go with that instinct of being empathetic before that thought of oh I can't let them see me vulnerable
When we all as humans unite around the world without any violence or vengeance involved I truly believe there will be no bad in the world
All wars ended because the headache full of hate Shatan has placed on us has ended from the tylenol God has gave us
The world can finally be in peace because we have finally come together with putting past our differences
We have become absolutely pure
We found the answer to the question that has been asked for years and years
And it all starts with…..  
Contradicting Confessions