Retiring teachers reflect on their experiences at RCMS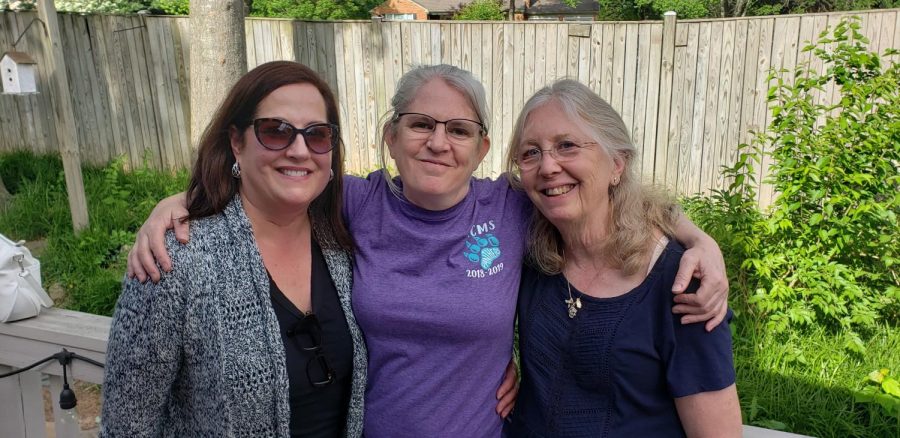 At the end of the 2018-19 school year, several teachers at Rachel Carson Middle School will retire. These teachers are Mr. Alan Anderson, Mrs. Patricia Silverthorn, Mrs. Sheri Wallenstein, and Ms. Karen Bryant.
"I enjoy working with the kids," says Mr. Anderson, the Tech Ed teacher. He holds an engineering and business degree and worked in the printing industry before switching to teaching. "I became what they called a career-switcher."
"Technology has been my interest and passion my entire life," he says. "There's nothing better than teaching something you're passionate about."
Mrs. Wallenstein, a seventh-grade math teacher on the Legacy team, says her teaching experience has been awesome. She says, "I enjoy getting to know and helping the students."
According to Mrs. Wallenstein, everyone at RCMS has been kind and helpful. She says that her favorite thing about teaching is helping kids realize they can learn and succeed in math.
"My experience at RCMS has been fabulous!" says Mrs. Silverthorn. She is the school-based technology specialist at RCMS and used to teach AP world history at other FCPS high schools. Her current job includes helping teachers learn to use software, helping kids solve their technology issues, and teaching students about staying safe on the internet. Mrs. Silverthorn also organizes the Digital Citizenship club, which takes place after school. She hopes the club will be continued after she retires.
Before becoming a teacher, she worked with refugees and homeless people. There, she realized that children were always the ones most affected. When she decided to go to college at the age of 30, she realized she wanted to do something that would help children.
"The most important thing is to build relationships with the students," Mrs. Silverthorn says. "You have to accept them for what they bring to you."
Mr. Anderson says that every class he teaches is different. "Never expect things to be the same," he says. "You can't make generalizations."
Mr. Anderson says that in class, he likes teaching his students about model rockets best because his students are interested in it.  "I love teaching the kids!" he says. In his spare time, he also enjoys building and flying model rockets.
According to Mrs. Wallenstein, she likes teaching math because it has an order. "Math is very concrete," she says. "It makes sense." She also enjoys it because students use it every day.
Mr. Anderson, Mrs. Wallenstein, and Mrs. Silverthorn all say what they are looking forward to the most is not having to wake up early anymore. "I've been getting up at 5:30 in the morning for 25 years," jokes Mrs. Silverthorn.
Mrs. Wallenstein is looking forward to spending more time with her children and grandchildren, and Mr. Anderson and his wife plan to travel to the Niagara Falls area to visit friends.
This year is Mrs. Silverthorn's fifth year at RCMS. She says that RCMS has great kids and staff.
"In this school, many of the students are motivated themselves to learn," she says.
According to her, the best thing about teaching is the students. "Kids," she says. "Being with young people. They make me feel alive."
"Don't underestimate your students," says Mr. Anderson. He says that all his students are capable of achieving amazing things. "[My students] surprise me every day."
Even though teaching is hard and takes a lot of work, it's very rewarding watching students grow, says Mrs. Wallenstein.
According to Mrs. Silverthorn, teachers should put students first, before the subject they're teaching. "You have to really like kids," she says.
"All my kids are great kids," says Mr. Anderson.
Mrs. Silverthorn thinks that technology will have a big impact on the future of education. "You can teach yourself anything you want to learn [on the internet]," she says. Instead of teachers being focused on feeding students information, says Mrs. Silverthorn, teachers should be focused on how to inspire their students. "It's more 'how can I inspire [my students] to be [their] best self,'" she says.
"Always be a learner," says Mrs. Silverthorn. "Never stop being a student."