Carson wins Governors Award for 2019
Fairfax County residents tuned in on Red Apple 21 or streamed online on Sept. 12 to watch as Principal Gordon Stokes accepted the 2019 Governor's Award for Educational Excellence on behalf of Rachel Carson Middle School.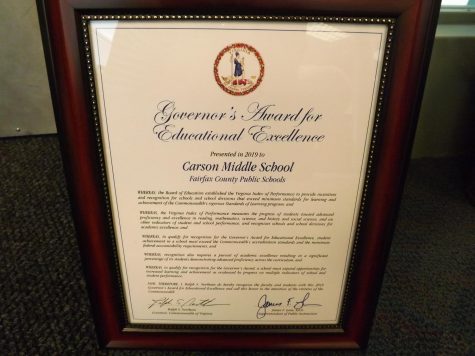 The School Board meeting honored Fairfax County schools that earned the Virginia Department of Education's Index of Performance Awards, which were announced last May.
Carson was one of only five Virginia schools honored for receiving the coveted Governor's Award for 2019.
This award–given by Governor of Virginia Ralph Northam and the state board of education–is the highest educational award in the state of Virginia. Only four other schools besides Carson won. The other schools are Chesterbrook Elementary, Jamestown Elementary, Cooper Middle School, and Longfellow Middle School.
"I think it is an amazing award for Carson to be able to accomplish this," said Mrs. Jennifer Miley,  Director of Student Services at Carson.
To earn the Governor's Award for Educational Excellence, schools and school divisions must meet all state and federal achievement requirements and meet all possible excellence goals for elementary reading, enrollment in Algebra I by eighth grade, enrollment in college-level courses, high school graduation, attainment of advanced diplomas, attainment of career and industry certifications, and participation in the Virginia Preschool Initiative.
"Carson is more than just test scores and that is why I think we won this award," said Principal Stokes.
The schools that receive this award are considered some of the best in the state and some are even considered among the best of the country.
Carson winning this award will certainly benefit them in the future development. The award can serve as a motivation to Carson to be one of the best in the country.
"This can serve as a building block to us being an even stronger community," said Mr. Stokes.
Many people contributed to this award coming to Carson, from students to administrators. All of these people have put in hard work to get all of this work done and this was how they got recognized for it.
"This is a nice recognition for all the hard work we have done," said Mr. Stokes.