Flag football club after school on Wednesdays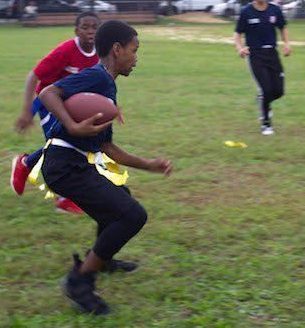 The RCMS flag football club takes place every other Wednesday. It gives students the opportunity to play flag football in both a competitive and recreational environment. 
Students enjoy their Wednesday afternoons playing flag football on the Rachel Carson field. 
"It gets really interactive. Once, you get the jersey on, it's a natural NFL team," said Ajitesh Bontagarla, a 12-year-old on the Trailblazers team.
The club is run by Mrs. Ashli George, a teacher at RCMS.
"I just want students to play and get out of their comfort zone," Mrs. George said.      
Flag football is similar to regular tackle football. In order for somebody to be downed, the defense has to pull off one of their flags while they have the ball. The quarterback has a few seconds before he is rushed by the opposing linemen trying to sack the quarterback. All of this is happening while wide receivers try to get open past the other team's defensive backs.
"First, we get our jerseys, then we pick teams and then we just play," Ajitesh said. "After A block we switch teams to make it more competitive." 
"[It's] very competitive," said Owen Wojciechowski, a 13-year-old on the Extreme team. "There are always new people there that you don't know. Some people are very good while others are not. All that matters is that people are having fun."
About 15 to 20 students usually show up to the club to play football. Mrs. George enjoys sitting back and watching the kids compete.
"The students ref the game, take leadership and play with their teams," Mrs. George said. "I'm only there to monitor the students' behavior and to make sure they are being safe." 
There are different ways that people can play flag football outside this club. There are many different leagues that offer flag football to play with a team. Kids have team practices and play against other teams.
"I have played in a league twice," Owen said. "I was 10 and it was a lot of fun because my dad was the coach and my team was good. Not to mention we won the championship." 
Some students attend the RCMS flag football club because it is difficult to find time to attend a team or club. Leagues also cost money, while the flag football club is completely free. 
"I like flag football and I can't really play football outside of school," Ajitesh said. "If you do a league, you have to go and put all your time and effort into it. Here, all you do is have fun and scrimmage."
Some students go to the club just to have fun and play football with their friends while others go there to be with others and get a break from school. Students are always having homework and being under constant stress. Flag football club is a way to try something different.
"Students should be open to trying something new, to get a break from everyday school and work," Mrs. George said. "It's outside, it's physical and it requires teamwork and working out different issues." 
The only way students can attend the club is to sign up during lunch every other Wednesday during lunch. All the equipment is provided by Mrs. George.
Mrs. George says, "The club is really fun once you try it out."