Peer tutoring creates special friendships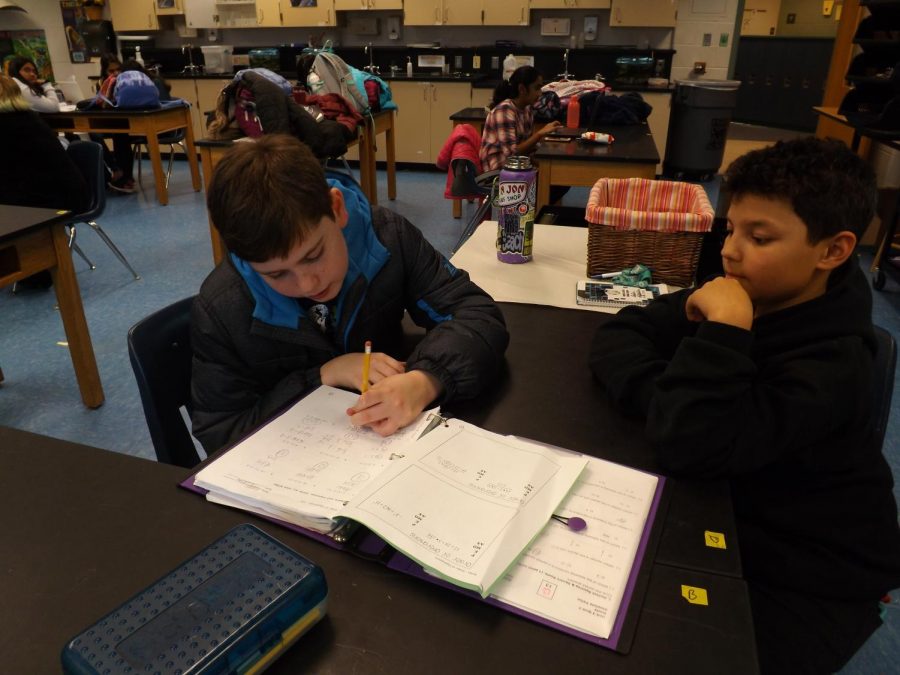 "I feel like when you connect with a student, they will do anything for you," said seventh-grade counselor Joanne Fraundorfer, who started the Peer Tutoring program.
This is the first year of the program being up and running after it stopped a few years ago. The peer tutoring program at Carson allows seventh-graders to be tutored by experienced eighth-graders who have been recommended to tutor by past teachers. 
At a peer tutoring session in December, students sit in the classroom, eager to learn and chat with their tutors. Peers chew on snacks while the tutors explain and help them. The pairs of students chat quietly. Papers are sprawled all over the desks. Smiles light up the peers' faces, as they are welcomed into a safe learning environment.
"My favorite part is to see students working together collaboratively," Ms. Fraundorfer says, "and to see them come back week after week." 
The peer tutoring program teaches students a lot about collaborating by providing them an opportunity to work with their peers and tutors to come up with strategies of success. But, Ms. Fraundorfer hopes for peers to gain plenty of other skills and experiences from the Peer Tutoring Program.
"I would love for the kids getting tutored to learn tips and strategies," said Ms. Fraundorfer. 
She hopes for tutors to learn a few things too.
"I want them to gain confidence," said Ms. Fraundorfer, "and just to understand how to work with different learning." 
Tutors learn how to be more creative while working with different learning styles. Yet another benefit of tutoring is that the tutors earn hours for eighth grade service learning.
"The program helped me reflect," said tutor Spoorthi Nadkarni, an eighth-grader on the X-treme team.
Other than giving peers additional help in school, the peer tutoring program give peers the benefit of working with a student, rather than a teacher.
"A peer is a kid so you guys might have a different way of explaining it that makes sense," Ms. Fraundorfer said. Furthermore, eighth-graders have experience, and have gone through seventh grade. They get the opportunity to share tips that helped them.
Tutoring also allows kids to bond with their tutors and create long-lasting friendships.
"My favorite part is talking with my peer tutor," Sara Ahmed, a seventh-grader on the All Stars Team who has been attending the peer tutoring program. Vice-versa, tutors also have a special bond with their peers.
"I have gained some new friends from this program," Spoorthi said.
The program also creates a welcoming environment for peers and tutors.
"The peers get to work with a nonjudgmental kid," said Ms. Fraundorfer. The tutors aren't going to grade the peer, so there isn't much pressure on the peer.
There are multiple other peer tutoring programs around FCPS, which all involve high-schoolers tutoring elementary school students. Only a few schools have a program where middle schoolers can tutor each other. 
"Well, it was a program that was in full swing two years ago," said Ms. Fraundorfer. The Carson Peer Tutoring program was shut down for a few years before it was started again. Previously, another counselor had been in charge of the program. After the counselor left, the program stopped. Ms. Fraundorfer wanted to bring it back. 
One of the biggest problems facing the program is that the peers come on an invitation basis. That means it is not mandatory to attend the sessions. 
"Going forward, I would want to make it mandatory," said Ms.Fraundorfer. This would allow more students to get help and allow more eighth-graders to tutor.
"Making it a class would be awesome," Ms.Fraundorfer said, laughing. "Although, that will never happen."