Coronavirus impacts sports for students and staff
The suspension of professional and youth sport leagues' seasons since March has impacted the lives of many RCMS students and staff.
Sports in our world today have a huge impact on many lives, including those of RCMS students and staff. Henry Martin, eighth-grader on the Wolves team, is impacted by sports a lot. Henry likes to watch and cheer for his favorite teams. 
"Sports give me something interesting to do, and I enjoy playing sports because it is fun and is good for my physical health," he said.
Henry enjoys playing sports, but has seen major changes since the pandemic.
Youth leagues were heavily impacted by COVID-19. Most youth sports leagues were cancelled to help prevent the spread of the virus. Organizations and companies that help athletes play depend on participation from athletes to help pay for costs. With the loss of income, many of these leagues, organizations and companies will struggle. In addition, the economic struggles for many at this time, will mean less participants because of families unable to afford the cost of youth sports when things return to normal.
"I miss the enjoyment of playing sports with my friends and I also miss the exciting part of sports," Henry said. "Sports are something fun to do. During the day at this time, you can get really bored."
Even though youth leagues have been cancelled, that hasn't stopped RCMS students from participating in their favorite sports outside.
"I've been playing with my brother in my backyard–that way I can have fun and still social distance," said Caleb Blow, eighth-grader on the Explorers team. Sports were a big part of Caleb's life before quarantine.
While some have been able to play sports outside, many whose favorite sports need to be played in a certain court or place have not been able to participate as much.
"I haven't really been playing my favorite sports during quarantine," Ms. Wolfe, seventh-grade PE teacher, said.
Unfortunately, due to the virus, the courts near her closed, preventing her from playing racket sports such as tennis or pickleball that she enjoys
"It's kind of difficult to play racket sports with most of the courts being closed," she said  
Even with the difficulty of court and field closings, many have adapted to get their exercise in
"I haven't been playing pickleball, but I have been walking a lot!" Ms. Wolfe said. "Especially with the nice weather." 
For many RCMS students, their daily schedule revolved around sports.
"I had lacrosse practice two days a week," Caleb said. "My life revolved around sports a lot of the time and now without them, I've just been playing more and more outside!"
The spread of the virus throughout the U.S. led to the suspension of many professional leagues.
In early March, many sports events that are very important for fans started to cancel. On March 11, the NBA suspended further play after the earlier announcement of player Rudy Gobert testing positive for COVID-19. The next day, the NCAA cancelled March Madness, an event that brought in $933 million of revenue last year.  The NHL also paused their season that afternoon and the MLB season start was to be delayed by two weeks. Many other events would soon follow, such as the Boston Marathon canceling and the Masters postponing. The Olympics were later postponed and the LLWS was cancelled on April 30.
With the loss of professional sports during this time, the impact of sports has shown.
Before the pandemic many students had been watching sports.
"I watch a lot of sports," Henry said. " If my favorite teams are on, I watch them and if I know they are on later, I will record them." 
Many find sports on TV and in person as a great way for entertainment.
"I love watching sports on TV and in person. It's just an all around great way to get some entertainment," Caleb said.
Even though sports are not on live during this time, many sports stations have broadcast previous games. The recent success of D.C. sports teams in the playoffs has allowed them to have many games that are worth re-watching. Students like Henry have been able to watch replays of games. Many times on the sport channels, important playoff and historic games are played.
While many students and staff miss watching sports and the excitement that many have when watching them, they do respect the choices of the leagues to suspend their season.
"It was a good idea to close the sports," Ms.Wolfe said. "All of them are in such close quarters, it's just not safe for the players to continue."
"I do support it because the sports I watch are team sports, and they are playing sports against other teams with thousands of fans in attendance," Henry said.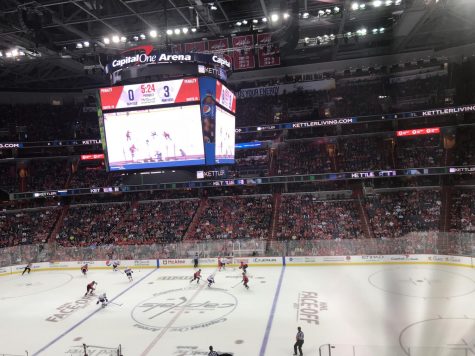 Another huge factor in the season suspensions are fans. In places such as Capital One Arena, sellout crowds are a likely event. This NHL season, according to ESPN,  the attendance at Capital One Arena was 100% on average. Packed stadiums could increase the spread of the virus. This factor has led many to bring up the thought of fanless games. New York Governor Andrew Cuomo said on his May 18 briefing that he is encouraging major sports teams of New York to plan reopenings without fans, but still be televised. While some people are against this idea as crowds are a huge part of sports and give a great atmosphere, many people aren't against it.
Henry said, "It won't affect the game itself, but I think it would be a bit boring because fans are a huge part of the game. I would still watch the games because they are still fun."
Even with the state that we are in, many are hopeful for return.
Ms. Wolfe had her own opinion on the matter: "I hope all the leagues return. All my tickets got cancelled and it's a shame to miss the games," she said. "I also hope that the leagues start fresh, and start with new precautions for the next season."
The closings of the major American sports leagues affected not only her but many other Americans who purchased tickets to sports games that were scheduled during what is now quarantine.
Lately, however, many sports leagues have been planning a return. On the night of May 7, the NFL released the schedule for all 32 teams, which showed that the league would start at the normal time on September 10. The NHL who did not finish their regular season has been looking at a modified playoff bracket which would include more teams than usual. In the NBA, many facilities have started to reopen, allowing players to train. Both the NBA and NHL who would be in the middle of the playoffs right now, are trying to finish the season and award the trophy.
"I don't care if there are fans or not," Ms. Wolfe said. "I just want sports to be back."