Winning T-shirt design represents learning successfully online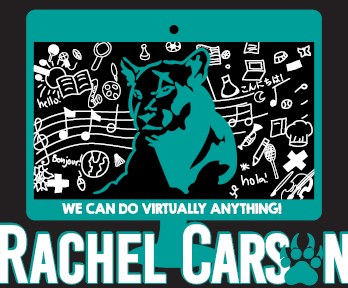 Eighth-grader Annanya Bitra won RCMS's 2020-2021 T-shirt design contest in October with a design that represents all students learning successfully online. Her art will be printed and distributed on T-shirts that are given to the whole school.
"I was shocked to see my design on the RCMS Instagram page," Annanya said. "I felt stunned at first that I had won."
The T-shirt has a panther paw print on the front. On the back, there is a collage of symbols with a panther in the middle to tie it all together. The T-shirt design represents all the classes RCMS has to offer. It shows how we can still learn both music and language efficiently through distance learning. It also represents our school as a whole through distance learning during Covid-19 pandemic. 
Annanya said she was inspired by old music designs, so she decided to use them to show what our music program does. She thought about our school theme, "We can do virtually anything" and decided she wanted to show what we all can do in RCMS via online learning. She decided to add many elements to the T-shirt design, showing our progress in learning during Covid-19. 
Annanya started doing art when she was 3 years old. Annanya has based the design on her experience in RCMS's distance learning atmosphere. She has been involved in the music program since fifth grade and plays the clarinet. 
Everybody in the school had a chance to vote for 3 out of the 49 designs in total. Out of 49 designs, only four won the majority of the votes. Annanya's design was one of them. The administration picked the final winner of the contest. Annanya won the contest by amassing  8.5% of the votes. 
All students will receive a free T-shirt to show their school spirit, and teachers have the opportunity to buy a shirt as well. More information on timings and sizes can be found at the RCMS website: https://carsonms.fcps.edu/