RCMS teachers and students disagree on Capitol Hill riots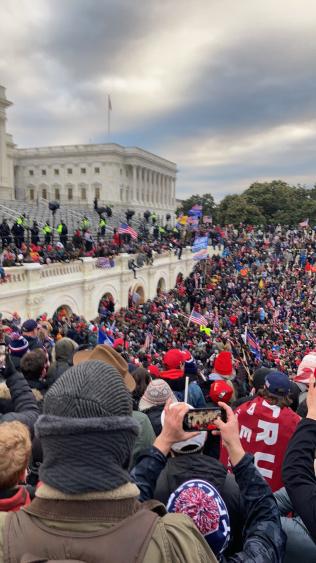 Many RCMS students and staff were shocked while watching the riots at Capitol Hill on Jan. 6. 
"I am appalled by the events we witnessed on Wednesday; yet, comforted by the U.S. Constitution at the same time," says Mrs. Cynthia Burgett, a civics teacher at Rachel Carson Middle School.
Riots started in Capitol Hill after the Congress announced the victory of President-Elect Joe Biden. A pro-Trump group of people, some of them coming directly from President Trump's "Save America rally," assaulted the police and broke into the U.S. Capitol.
"The attack on the United States Capitol, also known as "The People's House," was not reflective of what is enshrined by the Bill of Rights," says Mrs. Burgett.
Rioters broke many things in the building like the windows. Shots were fired in the House chamber. All the lawmakers, cabinet leaders, political leaders including Vice-President Mike Pence were escorted out of the building safely.  Congress certified President-elect Joe Biden's win after the riot broke out. 
After the riot started, President Trump tweeted, "Please support our Capitol Police and Law Enforcement. They are truly on the side of our Country. Stay peaceful."
Many political and Cabinet leaders still believe that President Trump should be impeached or removed from his position as president before his term ends. Eighth-grader Riya Gupta of Luther Jackson Middle School believes that president Trump was causing the riot to intensify by posting messages on Twitter and Facebook. 
"He is triggering those people by posting messages on social media," Riya said.
President Trump also got banned from Facebook and Twitter.
"That was a very good idea as he was not helping the situation and Trump took matters into his own hands," said seventh-grader Ishaan Mantrala.
President-Elect Joe Biden was angry about how protesters from Black Lives Matter protests were treated in comparison to the Capitol Hill protesters.
Biden tweeted, "No one can tell me that if it had been a group of Black Lives Matter protesting yesterday there wouldn't — they wouldn't have been treated very, very different than the mob of thugs that stormed the Capitol."
"We all know that is true, and it is unacceptable. Totally unacceptable," he said. 
Mrs. Burgett said that who wins or loses an election isn't important, but what is important is the process itself.
"[In an election] we are all winners because of the 'winner' in our democracy," she said. "Democracy wins when all people accept the results of a legitimate election."