FCPS to proceed with new solar panel program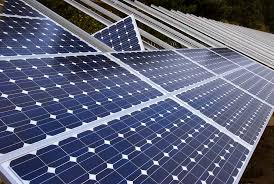 The FCPS School Board voted March 4 to implement a solar program that will allow the county to buy renewable energy with little to no upfront operational costs. 
According to the FCPS Board, solar panels will be installed on school buildings as part of the FCPS initiative to reduce greenhouse gas emissions and electricity costs.
"This program will enable us to quickly begin an environmentally friendly program that will help us keep utility costs low," stated Dranesville District Representative Elaine Tholen, who introduced the motion to approve the solar facilities contract.
Ms. Lauren Breza, a science teacher at RCMS, said that according to FCPS's Get2Green website, FCPS uses about 800,000 kwh of electricity and spends about $75,000 a year on electricity.
"FCPS electricity usage results in a release of an average of 624 tons of CO2 emissions each year!" she said. "In my opinion, any renewable energy, such as solar panels, that can be introduced to reduce, or even better eliminate, our school system's need for nonrenewable energy sources would be a great asset to FCPS, as well as, efforts to reduce the effects of our global climate crisis."
FCPS and other county groups will purchase the electricity generated from the panels at a fixed rate for 25-28 years. Annandale High School, Hayfield Secondary School, and Robinson Secondary School are the three sites that are planned to begin the program, with more schools to come. RCMS already has solar panels through an effort of the Going Green club.
"Fairfax County Public School is the one of the largest school districts in the United States, and with that comes high demands for energy and resources," Ms. Breza said.
This new move expands the previous use of solar energy in schools through vendors. FCPS will now be able to have an environmentally friendly program that will help utility costs stay low. Although the program was voted to proceed, no actual designs or drawings are available to be shown.