From idea to reality: The journey of a podcast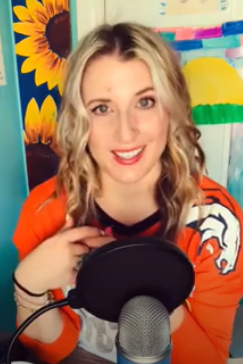 Have you ever had an idea that you wanted to make into something real? 
Ms. Amy Allen, seventh-grade English teacher did just that, by starting a podcast called Queen of the Classroom. It wasn't easy though, and it took several months of planning to launch the podcast. 
Queen of the Classroom is a podcast that circulates around students' mental, social, and emotional health, and aims to help engage students in school. It was made to excite students about learning, and help them feel connected in these hard times.
  "My ultimate goal would be that every student feels that support, value, and worth," said Ms. Allen. "Because everyone has been, and will be more than enough, and I think students need to hear that more often." 
Another part of her goal for the podcast was this: "For students to know that they are heard, they are wanted… and I wanted to be that cheerleader to support them." 
 Ms. Allen tries to keep the approach light. She says she tries to give fun and relatable titles, for example, 'Ur gonna luv dis 1. (Oh my fragile heart).' The use of text language was something that entertained many students and caught a lot of attention.
Ms. Allen was given the idea to create this podcast a long time ago, but now that students were isolated she felt it was the right time to do it.
It wasn't an easy journey. On Jan. 28, Ms. Amy Allen released her podcast. There were many steps to making the podcast, between coming up with a name, a logo, scripts, learning how to record and learning how to edit.
When Ms. Allen started working on her podcast, she said there were many struggles to overcome. She had no idea how to make a podcast. She started researching podcasts and how to make podcasts.  Ms. Allen also received help from her friends, family, and students, in buying equipment, coming up with ideas, and learning about podcasting.
Students who listened to the podcast seemed to enjoy it and liked it for the motivational, and helpful, and fun tips.
"Something I could refer back to if I was feeling down," said seventh-grade student Vennela Mandava.
Other students agreed with this statement.
"I thought it was great that someone made this podcast for students and talked about such positive things."Aryan Garg, a seventh-grade student, said. 
It seemed to bring feelings of positivity, higher self-esteem, and stress management to the students that watched or listened to the podcast.
The idea came from Ms. Allen's friend, after she was told she had a great voice, one that would be good for podcasting. It seemed like a joke to her, something that wouldn't really happen, but when she shared it with her students, she received positive feedback that encouraged her to make it from an idea into reality.
Ms. Allen explained she knew nothing about YouTube, or podcasting, so she had to do a lot of learning to find out if she could do it. To learn how she wanted to create her podcast she ended up listening to a lot of different podcasts to see what she liked and disliked. This helped shape her own podcast.
Not all of podcasting is hard though. Many fun things happen along the way, like technical malfunctions, making blooper videos, and sharing stories from her classes. Ms. Allen tells us she tries to make the podcast stay entertaining, but at the same time, help students with their social emotional health. She wants to mix in humor and stories, while also teaching. 
While the podcast progressed by many standards, such as editing, interviewing others, and the style, Ms. Allen still believes she has more to learn and grow .
 "I'm still learning, I'll probably keep learning," she said.