Current RCMS debaters share their experiences and the benefits of debate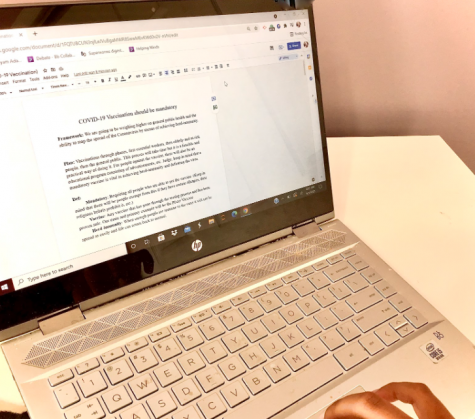 "Debate forces you to change your point of view," says Advik Sood, a seventh-grader at RCMS. "It allows you to express your opinions and thoughts, and that's what I like about it."
Students at Rachel Carson Middle School enjoyed their debating experience, from the beginning of the school year to the end, both in meetings and in tournaments. They have taken part in difficult tournaments, succeeding and earning wins in many of them. One main theme among the students in the team is the fact that debate can be beneficial, providing an opportunity to learn and grow, both in school and out.
The Debate Club at RCMS specializes in parliamentary debate, a well-known 3-on-3 version of debate. It consists of two sides – the proposition and the opposition. The proposition argues for the topic that they are debating on, also known as the resolution, while the opposition argues against it. Each side has 3 members, as stated above, and each member has a different role.
In the case of the proposition, their first speaker lays out their arguments. In the case of the opposition, their first speaker refutes the other first speaker, then lays out their case. Both second speakers refute and expand on their arguments. Third speakers wrap up loose ends and emphasize why their side should win. 
RCMS has placed in the top three schools for almost all of the tournaments, securing the most wins with its large and skilled team. The most recent tournament was the biggest of them all – the championship tournament. An opportunity arose for debaters to progress and show off their debating skills, in the semi-public octafinals, quarterfinals, semifinals, and finals. One team, consisting of three debaters, managed to fight their way through and make it to the quarterfinals.
On this happy note, both eighth-graders and seventh-graders have many enjoyable aspects of debate, both in mocks and tournaments that they favor.
"My favorite aspect of debate is probably the team aspect," Rere states. "Being in a group you can't just rely on yourself. You have to make sure everyone is pulling their weight and that everyone is improving alongside you. You also get to meet new people that you probably wouldn't have known otherwise."
Throughout the debate season, there were multiple tournaments, and none of them were all too easy. "The first few tournaments were slightly easy, but for the current tournament, which has 11 topics, my team and I have to meet at least three times a week to prepare," states Manya Yellepeddy, a 7th grader in the team.
However busy these tournaments may be, many students partaking in them feel that it was completely worth it, because of the many experiences they have had and the benefits debate possesses. These benefits range from learning about new topics to becoming more persuasive while speaking and arguing. 
Rere Akinyemi, an eighth-grader in the team, would like even more time to dive in depth into debate skills.
"One thing that I would change about debate is not rushing our debate cases for mock debates but instead focusing more on quality case writing, and getting ready for tournaments," says Rere, "and also, to focus less on being the best debater but instead, the best that you can be.
Even though this season of debate is over, current seventh graders will be able to try out in the coming year.