Going Green club plants trees with Fairfax ReLeaf
The Going Green Club planted pine tree saplings around the school Oct. 27 to provide shelter for animals and transform carbon dioxide into breathable oxygen.
A group of 48 members of the Going Green Club came to help plant pine tree saplings after school during A block. They planted the trees in the area between the left side front of the school and the trailers. 
Students were split into two groups. One group volunteered to dig out invasive plants in the area, and the other students planted the saplings.
The group planting the saplings split up into groups of three. Each group removed the top layer of grass and then dug a hole in the dirt. Once the hole was dug deep enough, a group member took one of the saplings that had been sitting in water. Once the group put the sapling in the hole, they filled the hole back up with the loose soil. 
Nethra Purushothaman, a seventh-grader on the Legacy team, said, "[My favorite part about planting trees] would be filling the hole back up knowing that the tree is stable and that it's going to grow." 
The saplings were 1-2 feet tall, and their roots needed to be soaked in water until they are planted into the ground. 
"I was thinking it felt good to do something and actually plant the trees and know that I was doing something that was directly helping the planet," Nethra said. 
Mr. Kirk Treakle, head librarian and sponsor of the Going Green Club, agreed
"I really love things that are direct action," he said. "It's one thing to make posters about recycling or do some little activities. And that's important to promote things, but the direct action — you are actually planting trees and some of those are going to survive and they are going to be there for decades."
A new program, plantnovatrees.org, is working to increase the number of trees in Northern Virginia, and RCMS is a part of this area. 
"Their goal is to plant 600,000 trees in five years, and the trees we planted [on October, 27] count towards that goal," Mr. Treakle said.
WHAT IS FAIRFAX RELEAF?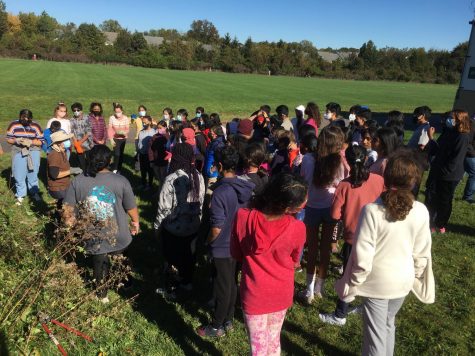 Fairfax ReLeaf supplied the Going Green Club with the trees they planted. Fairfax ReLeaf is a nonprofit organization whose goal is to plant and restore native trees. Its
website is fairfaxreleaf.org.
The Fairfax ReLeaf mission is to "conserve, restore and promote sustainable urban forests in Northern Virginia."
The pine tree saplings and shovels were brought by Fairfax ReLeaf. Fairfax ReLeaf is an organization that supplies all kinds of native trees for people to plant. Fairfax ReLeaf has been supplying the materials necessary for tree planting for Rachel Carson for 22 years. 
A member from Fairfax ReLeaf, Taylor Beech, explained to students what all the invasive plants are. She has been working with Fairfax ReLeaf for 10 years. 
"I'm happy with what it's doing," Ms. Beech said. "We're big on native plants."
She also said that Fairfax ReLeaf provides free tree saplings in the fall and spring. 
"The hardest thing about planting trees is poor soil quality," Ms. Beech said. "There is nice dirt at Rachel Carson, but places with rocks such as former construction sites are harder."
The pine tree saplings Fairfax ReLeaf brought were Loblolly Pine trees. The scientific name is Pinus taeda.
"Native plants are important because they fit the environment, and they support the local wildlife," Mr. Treakle said. "Fairfax ReLeaf only supplies native trees."
Mr. Treakle said he got introduced to [Fairfax ReLeaf] coincidentally. "Someone I was talking to mentioned it to me. It might have even been a parent," he said. "They supplied the saplings and the equipment.  It was a beautiful partnership."
ALWAYS LOVED NATURE
The Going Green Club is one of the after-school activities at Rachel Carson that meets on Wednesdays. Ms. Maritza Wesberry, a Spanish teacher at RCMS, is the co-sponsor of the club.  
"I just always loved nature and being outside," Mr. Treakle said. "I think there is so much there that can be learned."
The Going Green Club was named the Eco Club, from the years 1998-2003. Mr. Treakle ran it with Mr. Stokes, who at the time was a history teacher. The club stopped from 2003-2009. The club restarted and switched to the Going Green Club in 2009.
In previous years, the Going Green Club has installed water bottle fillers around the school to reduce plastic water bottles from being thrown out. They have also planted plants near the blacktop to slow the flow of runoff when it rains. 
GOING GREENER
"I was really interested in the whole eco-friendly movement," Nethra said. "I've been trying to use less plastic at home, and trying to influence my parents to do the same. And I want to plant more trees in places where they are tearing trees down."
"I think we can change," Nethra said, "we can turn it around, we can stop all the damage we've done. It will be very hard, and it will also take a lot of action. It's going to take government action. The amount of organizations is good, but we need government action too. But I do think we can change and turn it around. I want to encourage other people to look at their day, step by step, and see what products they used and what they do and what they could change in a more eco-friendly way."
If students want to help protect the environment, here are some options of what they can do. 
Start composting

Pay attention to what you can and can't recycle

When buying new light bulbs, buy LEDs

Eat local or sustainable foods

Cut down on eating meat

Use your water wisely

Bike when you can
"Interact with nature," advises Mr. Treakle. "That being with nature — that magic will seep in and [you'll] care more. Telling someone they need to change to help the planet, well, they have to care about it first, to start to develop that passion," he said.
"So if I had one thing to say," Mr. Treakle said, "it would be to get outside, get outside into nature, go for a walk on the trail by the creek near your house, go somewhere with your family, or classmates. Get outside and just explore."