Makerspace opens in library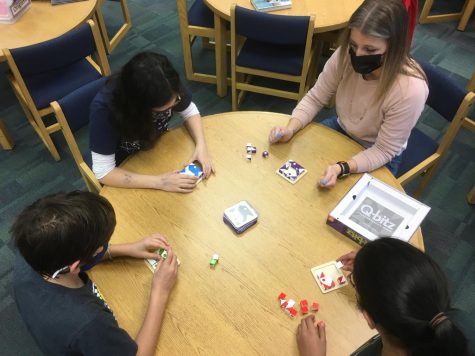 School librarians have opened a makerspace in the library to encourage student exploration.
Librarians Mr. Kirk Treakle and Mrs. Elizabeth Donovan wanted it to be a place for kids to be able to collaborate and create.
"Just making something and having success. We want everyone to feel successful," said Ms.  Donovan, a librarian at the Rachel Carson Middle School Library, and the founder of the makerspace.
The new area located in the library has many STEAM activities that students can participate in.
"The makerspace is an open-ended area where students can experiment, explore, and create," said Mr. Treakle.
The makerspace is an attraction located in the right wing of the library. Students sign up in the morning before first period for a specific activity. Students are then advised to come during Panther Time after advisory. There are after school opportunities for the makerspace as well. In both cases, the makerspace is first come, first serve. There is a limit of 20 makerspace passes for each Panther Time period. Students who participate in the makerspace during Panther Time can only engage once a week. 
The librarians had heard of makerspaces years before, but had never been able to host one in the Rachel Carson Library until recently.
 "We used to have 32 desktop computers at the right wing. Once each student got a personal laptop provided by the county, we had to relinquish those computers. It gave us a lot of space so we thought, why not place the makerspace there?" said Mr. Treakle. "We started planning, reading, we interviewed people to get ideas."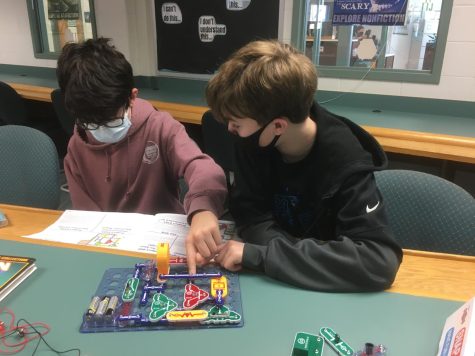 The librarians got input from teachers including Mr. Mark Bolt, Mr. Matthew Eggers, and Mrs. Calandra Couch.
"And after all that, we put together our first list of activities that we ordered," Mr. Treakle said. "As soon as we had enough that we felt we could make a go at it, we decided to open."
Overcoming obstacles
In a small area with a large amount of students, there will most likely be some obstacles. This has been true for Mr. Treakle and Ms. Donovan.
"Because the makerspace was getting crowded, we had to set a limit of 20 passes per Panther Time. We put limits depending on the activity. Don't forget to get a pass — if you sign up but don't get a pass, you won't be able to come," said Mr. Treakle. 
"The biggest two problems so far is that students have not been serious about it, they've come to play with their friends and not for the activities. They are abusing the privilege. It's ok to come with your friends, it's fun to be with your friends, but we want you to come only if you're serious about the makerspace." Mr. Treakle explained. "Another thing is that a lot of things are missing. We expect everyone to put it away neatly at the end. It's not so much theft — it's that people drop things and don't pick them up."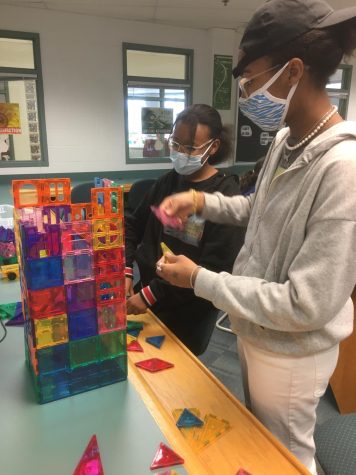 Student opinions
"We learned about the makerspace in English, Ms. Allen brought us to the library, and I was really interested in it," said Alex Peaks, a seventh-grader on the Legacy team. "I saw some things I did in elementary school. I signed up later and tried the Q-bitz with my friends, and overall, I just had fun." 
Neev Heneghan, a seventh-grader on Trailblazers, and Aishwarya Sawant, a seventh-grader on Dream Team agreed with this statement.
"I wanted to have fun with my friends and take a little break from my panther time work, and the makerspace lets me do that," said Aishwarya. 
"The experience was very pleasant, and I would definitely do it again," said Neev. 
Daanya Saraff, a seventh-grader on Dream Team said, "I picked origami because I do it a lot at home and it's fun. I like how you can take a square and turn it into art. It's also fun because I can just hang out with my friends while creating art." 
Some students wished for  more activities, especially robotics-type activities.
"I would suggest adding more stations and more engineering-type activities," said Shashank Edupuganti, a seventh-grader on the Trailblazer team.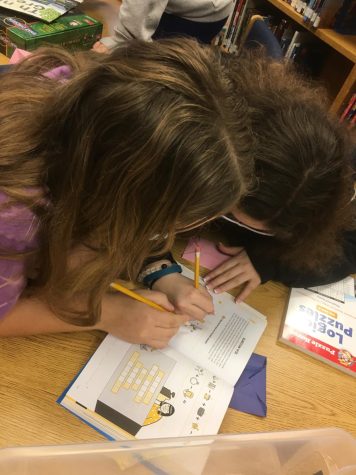 Regarding this suggestion, Mr. Treakle said, "We have a list of more stuff to order. Some different kinds of activities and some of the things that are really popular we might get a second set, and some we might have to replenish, like origami, we have to refill the paper …  We're gonna get more kits, a greater variety of kits for students to choose from." 
All the students interviewed rated the makerspace at least an 8 out of 10.
Impacts on students
"We hope that the makerspace helps students with their social-emotional learning," said Mr. Treakle. "On rare occasions, students work individually, but normally, students are working in a group. It's good that students are getting to practice socialization, problem-solving, and most students find it engaging and fun. It's kind of a little break in the day from other academic classes that they have and expectations that they have to turn in tests and deadlines." 
The makerspace is still changing and growing and suggestions are welcome.
"If kids have suggestions for things that they had at their elementary school library or public, we would love to hear suggestions and are definitely open to new ideas," said Ms. Donovan. "We are hoping this area will be flexible and open to change. We're always hoping that our spaces will reflect our new students."
Aishwarya is one student who might be found in the makerspace in the future.
"There's a quote from Harry Potter that I completely agree with," said Aishwarya. "When in doubt, go to the library!"