FCPS blocks more websites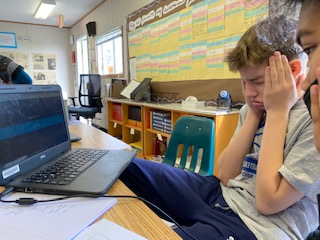 FCPS recently blocked Twitter, Cool Math Games, and Facebook — these are the newest on the long list of websites that have been blocked. 
Many students and teachers had varying opinions on what the reason was, but they all agreed that students were to blame.
"If students were using the computers more responsibly, they wouldn't be cracking down on all of this," said Carmen Johnson-Donald, an eighth-grade English teacher. 
FCPS stated that gaming and watching  streaming services like Disney+ crashes their servers.                                           
According to FCPS.edu, "On-line gaming has the potential to be a major 'bandwidth-hog,' as well as interfere with productive curriculum work. Music files generate 'bursty' traffic and generally require long download times…but Individual schools, with principal permission, can decide what sites to block or allow."
"Every internet connection has a finite amount of bandwidth," said Mr. Hale, the Technology and Support Specialist. "And every network needs to have spare capacity, and if you put a lot of users using the same bandwidth at the same time, it will run out." 
In 1998, the FCPS School Board directed the school administration to implement a technology approach for blocking students from accessing inappropriate material on the Internet. The School Board has adopted Policy 6401, which governs student access to the internet. 
Some students were frustrated when they heard that FCPS disabled access to a lot of their websites that they use frequently.  
"I think it's kind of unnecessary. Like they can block some games," said Chandresh Duraisamy, an eighth-grader at Carson Middle School. "But they've been blocking useful sites like Twitter and Pinterest which are sometimes useful for ideas but it's fair that people blocked the games that everyone's playing." 
Others believe that students are the main reason to blame. Many students have illegally gained access to VPNs.
 "People figure out ways to unblock [websites] and gain access to the unblocked sites," said Siddu Vallarapu, a member of the Dolphins team. 
Some teachers think that the reason FCPS keeps blocking more and more websites is because of the devious ways students bypass the security. 
Many teachers and students used websites like Twitter, Reddit and Pinterest. 
"I used them as a resource for ideas and lessons and assessments but from an English and social studies perspective, Twitter can have some value," said Mrs. Johnson-Donald.
"For stuff like Civics and History with Twitter you can get information that keeps up with the recent times but there is also the stuff that does make it blocked," said Siddu.