Recess may return next year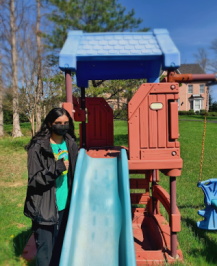 As FCPS considers bringing recess back for the next school year, students and staff members are currently voicing their opinions.
Elementary schools in Virginia are required to have at least 15 minutes of recess every day. At the same time, recess is extremely rare in middle school and nearly nonexistent in high school.
But, to many students' pleasure, Superintendent Scott Brabrand said that middle school principals are already working on how to incorporate the short recess period into daily schedules. 
FCPS has been discussing a proposal that all middle schools will be offering recess or breaks this school year. Next year, it will be required by policy and that supervised recess would be offered to middle school students every day for 15 minutes. The policy will go into effect next school year if it is approved. 
Some school boards are removing recess to allow more instructional hours and improve standardized test scores for students. Although students do have more time to master topics in class, over-studying causes mental distractions, making it challenging to memorize information. Schools also want to cut back on expenses because of budget cuts.
Xindi Yang, an eighth-grader on the X-Treme Team, expressed concerns about adding recess.
"The school day would probably be a little longer to accommodate the change, and some middle schools don't have very large fields to build playground equipment on which could be an issue." 
While recess isn't mandatory for all students in FCPS, physical education is. Physical education is an important subject taught in schools that focuses on physical fitness and the movements of the body. It's similar to recess since students are physically active, but does it fully replace the role of recess?
"In P.E., we have a curriculum that we follow; we have standards that we have to meet and structured activities. Recess should be free play, and students should have a choice of what they want to do," said Mrs. Lori Molnar, a P.E. teacher at RCMS.
The Centers for Disease Control and Prevention recommends adolescents to have 60 minutes of physical activity each day to ensure lifelong health. However, many students fear that they won't achieve that goal because they lack movement throughout the day.
Larry Wang, an eighth-grader on the Voyagers Team, said, "Recess exercises your physical abilities, and due to COVID-19, most of us exercise below our average time or no time at all."
Like Virginia, other states such as Arkansas, Connecticut, Indiana, and more require recess for elementary students but not middle or high school students.
On the other hand, states such as Alabama, Wyoming, South Dakota, and more have no policies requiring breaks or physical activity during school. While it is considered best practice for students to receive around 20 minutes of physical activity daily, it is not enforced in those states. Very few states can withhold recess as punishment.
Research states recess is beneficial for all students and teachers. More physical exercise can improve students' academic skills, and everyone can have a short break from learning and teaching. 
"You get time to relax, fresh air, and Vitamin D," said Arya Takalkar, a seventh-grader on the Trailblazers Team. "Studies also show that brain breaks improve test scores. Counselors always say that it will benefit us academically."
Xindi agreed that recess would benefit her and other students during the school day.
"I think it's going to give the students a break during the stressful school day. It would also improve attention during classes, as well as giving students the opportunity to exercise and socialize," said Xindi.
However, some argue that recess promotes aggressive behavior, which can lead to bullying and children getting hurt. Bullying usually occurs outside of the learning environment in hallways, bathrooms, buses, and playgrounds. 
"I don't doubt the benefits of recess, and I'm happy that middle schoolers next year will have recess." said Brinda Patel, an eighth-grader on the Dolphins Team. "But, many people question the role of recess and whether or not it's worth all the money. I just hope that everyone stays safe during recess and doesn't get hurt."