High gas prices pose challenges for FCPS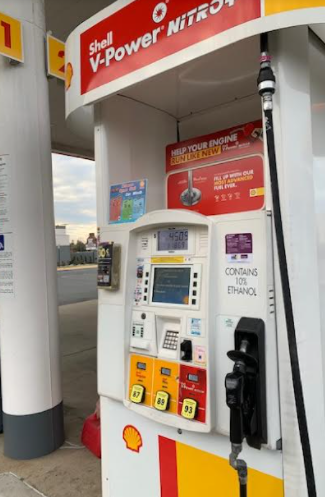 U.S. residents and school districts such as FCPS are paying an average of $4.10 per gallon of gas, as of April 10, because of U.S. sanctions on Russia and limited domestic production.
Many schools are being financially impacted by these prices. Because school buses require much more fuel than normal vehicles and are used frequently, paying for gas for a school bus for one year reached almost $4,329 pre-pandemic.
Factoring in the increase in fuel prices, it would now cost an estimated $6,371 to pay for gas per bus per year. Considering that FCPS has a fleet of 1,630 buses, this would cost FCPS almost $104 million per year.
FCPS budgets for $181.6 million in the student transportation sector, which means that they have around $78 million dollars left to spend on bus maintenance, paying bus drivers, buying and upgrading buses, and any other costs.
Some teachers and students are left worrying about the strain of these prices on FCPS.
Ms. Eleanor Donlen, an eighth-grade Civics teacher on the Voyagers team, says, "The county has to afford these prices and keep schools open at the same time."
Russia invaded Ukraine on Feb. 24, leading to international criticism and economic sanctions from many countries. Since then, hundreds of international companies have curtailed or stopped operations in Russia. 
President Joe Biden signed an executive order on March 8, which banned the import of Russian coal, oil, and gas, in an attempt to deter Russia from continuing their invasion, since Russia's army receives a lot of funding from fuel exports. This led to average gas prices in the U.S. skyrocketing from less than $2 per gallon in April 2020 to $4.25 in April 2022, exceeding prices reached during the 2008 economic crisis. Right before Russia invaded Ukraine, prices were approximately $3.50 per gallon.
Since many countries are buying limited or no fossil fuels from Russia, the Russian military is receiving fewer funds than usual. Russia is selling their gas at cheaper prices to countries such as India.
Nick Dev, an eighth-grader of the Voyagers team, believes that sanctions do not help alleviate the situation.
"Sanctioning Russia does not hurt them whatsoever, but only makes it harder for people in the U.S. to get affordable gas."
To put this into perspective, since the average driver needs 656 gallons of gas per year, they would pay an average of $492 more per year, assuming they only used the bare minimum of regular gas. That would be more than $900 extra per household, since the average household has around 1.88 active vehicles. Many vehicles need different types of fuel and require additional maintenance.
Certain states have more expensive gas than others. For example, prices in California have reached a high of $5.92, and $5.26 per gallon in Nevada, according to AAA. In Virginia, gas prices are at $3.97 per gallon.
These prices are only for regular gas. Mid-grade, Premium, or Diesel gas prices have reached an average of almost $5.11 per gallon.
Combined with inflation, these prices could take a large toll on school districts.
Angela Luo, a seventh-grader on the Legacy team, comments, "It will certainly cost more to drive students everywhere, in addition to inflation."
On March 31, a White House release announced that the U.S. would use 1 million barrels of oil per day for six months in order to combat rising fuel prices and boost domestic production.
There are varying solutions still being discussed to further solve this problem. Some popular ones among students and staff include using more renewable energy, lowering gas prices and taxes, and providing relief bills.
Ms. Donlen says, "I believe that more renewable energy is necessary, as it helps future generations, as stated in the Constitution."
Others disagree, saying this option is not feasible right now.
Nick says, "I think renewable energy is beneficial in the long run because of energy saving, but people aren't able to afford it right now."
Many people are worried about the extra cost for households, businesses, and schools, but hope that a solution is found quickly.
Kofi Richardson, an eighth-grader on the Voyagers team says, "Everyone in the U.S. has felt the stress and strain of gas prices, but we can all get through this situation."