Ukraine Chess Charity seen as huge success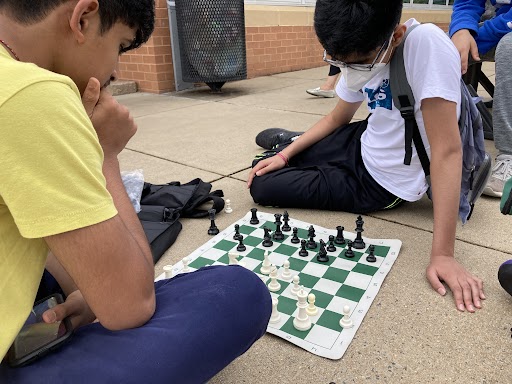 RCMS had a full parking lot on May 14, as an unusual amount of visitors for a Saturday crowded inside the building to wait for the tournament to begin; in the cafeteria, which was filled to the brim with enthusiastic students and parents, organizers of RCMS' Ukraine Chess Charity gave an opening speech and thanked players for their support.
The Ukraine Chess Charity was a chess tournament hosted at Carson on Saturday, May 14, which donated all its proceeds to help children in Ukraine. 79 players of all ages chipped in and played, and $5,467 was raised from a goal of $3,500– crushing the goal by over 50 percent.

Fundraising for Ukraine


 "The idea [of the tournament was created] when I saw some of my friends on Chess.com put up Ukrainian flags on their profile in support of Ukraine during the Russian invasion," explained Kent Slate, an eighth-grader with a chess rating of 2025 and a tournament director for the tournament. "I mentioned this to my dad, who in turn came up with the idea of creating a chess charity event for Ukraine."

The tournament was first introduced to members of chess club in April, and soon had more people signing up. Ameya Haldankar, the current leader of RCMS's chess club, explains why the choice to donate specifically to Ukraine's children was made.

"We're trying to ensure that the children of Ukraine have access to clean water, nutrition, [and] healthcare," said Ameya, a seventh-grader on the Legacy team who helped organize the tournament. "We have provided pizza, chips, cookies and other items, and we're going to use those [to fund Ukraine] as well."

These also yielded lots of donations, raising a large portion of the $3,190 of money donated outside of entry fees; players could fuel up in-between rounds, with certainty that their money was going toward a good cause. 
The Tournament
The tournament was also one of the first opportunities following the COVID-19 pandemic for students at Carson to play chess with each other. In addition to introducing an in-person, school-wide chess competition for the first time in the past couple years, it was seen as a chance to improve players' chess skills — something that some people have been working on for a long time.
"I first started playing chess six or seven years ago, [and] I think my first tournament was a McNair chess tournament," said Ameya. "I like playing chess because it's very stimulating, [and] there's a lot of strategy involved. … I recommend it to other people because it teaches you patience and many other things."
Ameya's rating– a number which approximates a player's strength and determines who they're paired with– of 1924 puts him above over 97% of junior players. His friends, aware of his interest in chess, later recommended that he run chess club, where he and Kent first announced the tournament.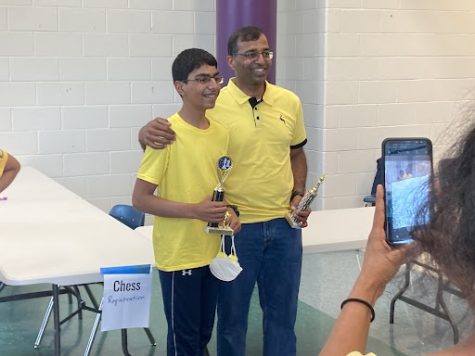 "My friends gave me the recommendation, and I thought it'd be a great place where all the people at Rachel Carson can gather together and play against each other," Ameya said. "We started organizing it because we thought it was necessary to help children in Ukraine, and we also wanted to organize a chess tournament so we combined the two."
The tournament had three sections: the Open, a rated section for players of any skill level; Under 1000, a rated section for players with a rating of under 1000; and Unrated, for those who did not want the tournament to affect their chess rating. The top five players of each section earned a trophy. Along with supporting a valuable cause, it helped students improve their gameplay.

"I got tough opponents but I squeezed my way through," said Yash Date, an eighth-grader on the X-Treme team. " I got 2.5 points out of 4."
Yash believes he learned a lot from his opponents, even when he lost to them.
"I lost to someone who is very experienced. He has been playing chess for 60 years since 1969," he said. "I think this was the game I learned the most from because he told me my mistakes and the game really taught me a lot."
The Ukraine Chess Charity, earning over 150 percent of its donation goal whilst granting players an opportunity to improve themselves, was viewed as an enormous success by many players.

"This wasn't just a one person effort, and not only one from Kent and his dad," said Yash. "It was more of a multi-person thing, and a lot of businesses chipped in and donated. … The tournament was amazing and arranged perfectly, and I hope things like this happen again."