Hispanic celebrations across RCMS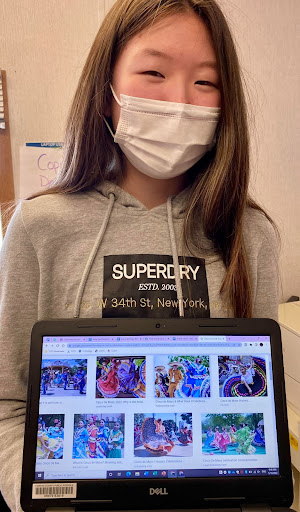 RCMS students and staff members are thrilled to share how they celebrate Cinco de Mayo and other Hispanic celebrations with their friends and family.
Why we celebrate Cinco de Mayo
On May 5, 1862, French troops stormed into Mexico to bring it under their rule, but the Mexican soldiers fought back fiercely. The French retreated by the evening, and now, people in Mexico celebrate the fifth of May because of their victory at the Battle of Puebla.
Cinco de Mayo is celebrated with parades, Mexican folk dancing, and mariachi music, along with traditional foods such as tacos and tamales. People also wear vivid outfits with the colors of the Mexican flag used in decorations.  
Here is how some students and staff at Rachel Carson Middle School celebrate Cinco de Mayo. 
"We make tacos and Locrio de Pollo [a Dominican dish that consists of rice and chicken] during parties on Cinco de Mayo," said Saniyah Gordils, an eighth-grader on the Explorers Team. "It's a nice day to represent Mexican culture."
Ms. Lida Costa, a Spanish teacher at RCMS, showed a video to her students explaining why people celebrate Cinco de Mayo.
"Now, if you ask my students about why we celebrate Cinco de Mayo, they will know for sure what to say!" said Ms. Costa.
Although some students don't celebrate Cinco de Mayo, they get to share how others do.
"My friend celebrates Cinco de Mayo by listening to music, dancing, eating traditional food, and celebrating with her family," said Safina Zelaya, an eighth-grader on the Wolves Team.
Hasini Nandimandalam, an eighth-grader on the Voyagers Team, was able to compare Cinco de Mayo to another holiday she honors.
"I do celebrate Veterans' Day," she said. "In a way, I feel like it is similar to Cinco de Mayo because it celebrates those that fought in the war to protect their country."
Another Hispanic holiday is Colombian Independence Day, which is celebrated on July 20 to commemorate the country's independence from Spain. 
Colombia gained independence from Spain when they protested against Spanish rule on the streets of Bogotá. The Spanish people were under pressure and had no choice but to give them limited independence, which later became permanent.
"They celebrate the feeling of freedom in their country, knowing they have a place to call their own," Safina said.
Ms. Costa celebrates Colombian Independence Day. She explained her favorite tradition to do every year on that holiday.
"We set off fireworks at night with the neighbors on the street, share food, and have very nice moments during the fireworks," said Ms. Costa. "We also have traditional food that is called Ajiaco. It has corn, chicken with avocado on the side, white rice, capers, and cream."
Ms. Costa also shared her enthusiasm for talking about other cultures and their holidays with the community.
"It's nice to ask and to share in our community about these things," said Ms. Costa. "It's nice to know about different cultures, people, and in this case holidays."