Virginia getting its first casino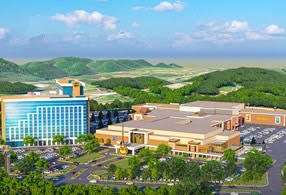 The first casino in Virginia is going to open in Bristol on July 8th and it's being faced with mixed opinions.
The Casino Bristol and Hard Rock Hotel will hold up to over 2,700 slots, opening with 1,500; over 100 table games, opening with 55; 750 hotel rooms, and opening with a minimum of 300; as a temporary casino for when the full casino opens in July.
Although this brings many job opportunities and more, there are conflicted opinions about a casino opening.
"In my opinion, we should not be getting a casino because getting a casino here can cause addiction and other problems," Farhan Ali, a seventh-grader on the Legacy team, said.
On the other hand, some say it is all ok as long as it's in moderation.
"It doesn't really matter," said Nikhil Dev, an eighth-grader on the Voyagers team. "Gambling is bad, but it brings in money and it brings in jobs."
Along with gambling addiction, other issues like crimes such as drunk driving from bars and robberies occurring in casinos can be a major problem if more casinos are built if Casino Bristol does well, because if there are cases for that near Fairfax, people might have to worry about drunk drivers. And that does cause concerns. 
"If drunk driving were to occur, it could cause a lot more property damage, deaths, and injuries, which can cause so many people's lives to be ruined," said Nikhil.
But unlike drunk driving and robberies, addiction can be reversed and removed from a person with gambling addiction programs. With the fact that all casinos in Virginia are required to give at least 2% of their revenue to gambling addiction programs, they can help. However, some people think people have themselves to blame if they have a gambling addiction.
"It's a business," said Nikhil. "The people are taking a risk in going there, 2% is a lot, I think that's enough."
Even though casinos seem like they do not serve a good purpose in society and only cause greed, anger, and other negative action, emotions, and crimes. There are positives when it comes to casinos.
To many people, casinos seem like they do not serve a good purpose in society and only cause crimes. However, there seems to be some positives when it comes to casinos.
"Yeah, there are a lot of good things about it," said Raj Sonar, an eighth-grade student on the Wolves team. "It gives jobs, which gives out money and entertainment. It's good to go out, it's good business and you can socialize."   
All in all, some believe we should not be getting a casino as it can cause dangers to the people around, and if they continue to build more, those dangers could spread elsewhere. 
"It causes gambling addiction and a lot of poverty,"  said Farhan. "People spend so much trying to win but they may not, causing poor people.
But some believe it is all a good idea, as it brings jobs, entertainment, and a chance to win money.
"It doesn't really matter," said Nikhil. "Gambling is bad but it brings in money and it brings in jobs, gambling itself is ok to a point, but I think if you are addicted then it's bad."