Four groups from Going Green win awards
"Fourth place– $700!… It's been a lot of hard work, but I'm glad it paid off," said Ariya Lee, a seventh-grader from RCMS. 
Ariya was one of the participants in the Going Green Competition, the Watershed program. There are four groups that made it to the top 10 from RCMS but there were many other schools who participated too.
The team is the Native Tree Planting, fourth place with $700.

 School Bird Garden, fifth places with $600.

 Leveling Up Our Rain Garden, 6th place with $500. 

The Plastic Reduction, tenth place with $300.
Caring for a Water Shade is sponsored by George Mason University, SEAS (Students Environmental Action Showcase). It is a program to help the Chesapeake Bay and the idea is, What can we do to help the water shade? From Going Green, students break into small groups and come up with different ideas for a 10-part proposal. 
Caring for our Watersheds contest is a good chance to learn more about the planet, your water sources, and how to protect them," said Ariya. "It's also an opportunity to work with a group, make some friends, and work with nature outside."
The student in the top 10 presents their proposal for five minutes. The winner earns $1,000 to work on helping the environment,  but everyone from the top 10 gets some amount of money too. Even the people who participated will earn a small amount of money from the trees and supplies.
 Ever since the pandemic hit the presentation was on zoom and this year the presentation was on April 27, 2022. Any school can participate in the Chesapeake Bay watershed and most of the participants are near the RCMS schools.
"I think that is excellent!," said Principal Stokes of RCMS. "Students came with the idea and they presented it and it was a really good idea.That just shows that young people can have an impact  and do something in their community. That is wonderful. "
Going Green history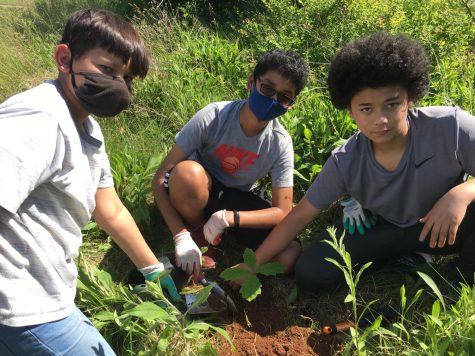 Going green is an extracurricular  after school club at RCMS school, started in 1998 when Rachel Carson Middle School was first opened. It was called the Eco club before it became Going Green. Mr. Treakle was the sponsor of the Eco club and Mr. Stokes was the co-sponsor back when he was a history teacher.
 Mr. Treakle and Mr. Stokes had a passion  to start a club to help the environment because Rachel Carson was the mother  of the environment so they thought it would be an honor to teach students about the environment and for them to  learn to be more responsible? So they did it through the Eco club. They meet once a week and get students to get together to work on projects. 
"It is a conservation sustainability club where they educate themselves and share it with other people," said Mr. Treakle.
Going Green is to take direct action, meaning planting trees, planting native plants, helping native animals, removing invasive species, and more to help the environment. This year Going Green started with 50 members, which was a record. Over time the people decide to drop out so it has about 40 ish members. 
They planted many trees in partnership with Fairfax Releaf. Members of Going Green usually plant the seed in the fall because of a better survival chance. The seed goes dormant but they come back in the spring. 
They only plant native plants because those are the surroundings of the local wildlife that have been here for 1,000, even 1,000,000 years old. Behind the C pod and D pod there are trees that were planted 21 years ago that are taller than the school.
"A lot of people plant plants that they think are pretty, but they are called ornamentals or exotic plants that are not native to the plant and they don't work well with other plants," said Mr. Treakle.
Solar panels
 In 2008-2009, RCMS put solar panels on the roof. It was the last year Mr. Treakle taught science. He was a science teacher for 11 years and 24 working for RCMS. From his five classes, he made a mega group that started planning and earning money for solar panels. They didn't finish because they started in spring and finished installing the solar panels near Christmas with the going green club. It took that long because they had to get permission from the FCPS and make the solar panels stable so that in case of a weather disorder it wouldn't destroy it. After that, he took a break for 5 years with the Eco club and started Going Green after he became a librarian. 
The passion to help the environment
"It is a passion of mine to do environmental stuff so I restarted it," said Mr. Treakle, "it was in 2009 when I moved to the library."
Something Going Green did is add a water bottle refiller to the school by working with allies from other schools. It cost $1,000 for one refiler and for the plumber to do the job it is $1,000. People can impact by doing little things to help the world. Bringing reusable items.
"It promotes kids to use reusable water bottles because it's easier for them to fill," said Mr. Treakle.
Another thing Going green did is fixed up the downhill near the Baseball court. When people park their cars on the blacktop, the car's oil or chemicals will wash by the rain onto the hill which will be damaged. 
They also have plants that are ready in summer that are edible: tomatoes, herbs, rosemary, basil, peppers, mint, and strawberries. Going green has a donation box in the cafeteria that goes to the homeless shelter, Inbred Shelter in Reston VA, near the Reston library. The donation is stored in a high refrigerator with no freezer, bought from Caring for Watershed money. 
One of the Going Green club groups is the Monarch Butterfly group. 
"We are working to build a way station, or a reserved spot for Monarch butterflies to stop, rest, lay eggs, and build habitats." said Shloka Yada on the Champions team and a seventh- grader. "We work to improve our environment, by cleaning, planting, weeding, raising awareness for major problems, and helping animals." 
What does Going Green mean to them?
"Going Green is a great way to get closer to the environment and help support our community for the greater good," said Shloka Yada. "We are able to help nature, as it's our job to keep the Earth safe and clean."
It is also a passion for other people in the community and world.
"Ever since I was a little kid, I have always loved to play outside and go on camping trips," said Mr Treakle. "After I became a science  teacher over the years, I learned about nature, pollution and a lot of things that damage our environment."