Students walk out over LGBTQ+ policy change
Approximately 100 RCMS students stood on the sandy baseball field in the windy weather in almost complete silence, except for the chirp of the birds above and the whirring of the Channel 4 helicopter overhead.
On Sept. 27, a group of students organized to protest the new policies drafted by the VDOE (Virginia Department of Education) and the governor of Virginia, Glenn Youngkin, suggesting changes to the way students in the LGBTQ+ community, specifically transgender students, are treated when it comes to official forms and notifying parents.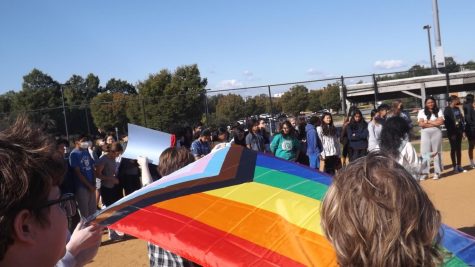 Youngkin said he wanted to make sure that "parents are fully engaged in their children's lives."
However, not everybody agrees with this. Some eighth-graders organized a walkout and notified school staff.
At the walkout, numerous students — angered by anti-trans and LGBTQ+ policies — presented their perspectives and experiences with anti-trans behavior.
"There were these two kids, one of them was probably around 6 and the other was older, around 10-11," said Alex Peaks, a Dolphin. "They were bullying me, asking me, are you a boy or girl? Make up your mind. It was just so rude."
"My own mom for some time was very questioning," Alex added. "I was making these bracelets and my mom asked me what they meant. I told her I liked boys and girls and she just said no- 'no, you don't like girls.' Just the fact that some people have to go through this every day is heartbreaking."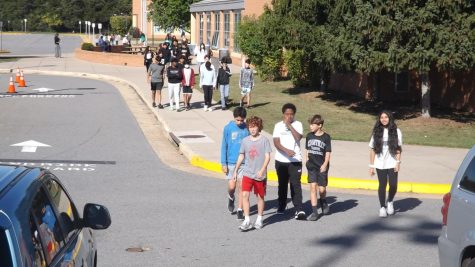 Hailey Deng, an eighth-grade Yellow Jacket, spoke about a friend's struggle.
"I had a friend that was really passionate about equal rights and the walkout, and making a big statement. Their mom found out and searched their phone — a complete violation of privacy. Their mom said if they participated they would be sent to a conversion school. This is just sad, discouraging, and traumatizing."
An approximately four-minute-long moment of silence followed the speeches before the walkout concluded and students returned to class.
"The point that we're trying to get across is that the policies will harm many people with the new bill," said Nico McGowan, on the Wolves team. "School is supposed to be safe, but by passing these policies, they're taking that away and making our community easier to target."