New teacher for algebra students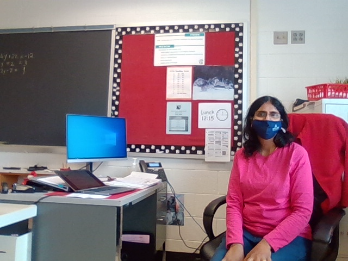 Mrs. Leonia Outland, a math teacher on the Wolves team, retired mid-year. Her last day teaching at RCMS was the day before winter break, Dec. 15.
"She explained everything in detail," Ananya Sah, an eighth-grader on the Yellowjackets team said about Mrs. Outland. "I liked how Mrs. Outland gave us an explanation for everything that we did."
"She was awesome," Chinmayi Karthik, an eighth-grader on the Yellowjackets team, said about Mrs. Outland. "She was very thorough with the material, and she made sure everyone got through everything."
Ms. Ganga Sivakumar is replacing Mrs. Outland currently, teaching Algebra 1, including Algebra 1 Honors. She teaches periods 3, 5 and 7 on odd days, and periods 6 and 8 on even days. 
"I love math very much," Ms. Sivakumar said. "But teaching just came by chance. I became a teacher… 6 months back. And I love it. I love teaching eighth grade," she said. "If I can see my kids perform better, it makes me very happy."
"She is really nice," Chinmayi said about Ms. Sivakumar. "And if you're doing all your homework, she's always more than willing to help you."
Ms. Sivakumar hopes that her students will work hard, stick to the schedule, and by the end of the year, have learned and are good at algebra. 
"I love math, because I've been doing math since my childhood," she said. "In my country, math was not easy. We never used computers—even in the senior year. We always did the manual way—the hard way."
Chinmayi commented on how Ms. Sivakumar helped expand everyone's thinking and was always willing to help students who needed it. 
When asked about what her favorite part of teaching was, Ms. Sivakumar said, "I get to share what I know every day. If you keep knowledge within you, it will perish. Spreading knowledge is important."  
"These kids will be the future achievers," she added. "If I am being a tiny part of it… well that's the best part."