One last teacher for students of C210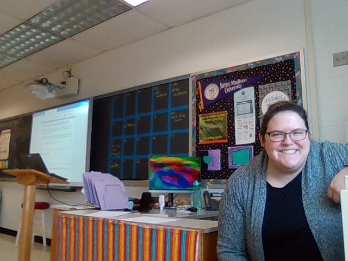 Algebra students find the room of C210 set up differently than before with the new teacher, Ms. Sarah Newman, an Algebra teacher on the Wolves team taking over as the teacher of room C210. C210 used to be taught by Ms. Ganga Sivakumar. 
Before her, Mrs. Leonia Outland was the original teacher of C210 was Mrs. Outland, who retired mid-year, her last day being the day before Winter Break.
"I'm so happy this is the last switch," said Rishima Sahoo, an eighth-grader on the Voyagers team, as these teacher changes have all occurred in the last two months. 
Naomi Hudock, an eighth-grader in Ms. Newman's eight period agrees. "I really like this new teacher," she said. 
 Ms. Newman's first day of teaching was Jan. 30. Ms. Newman has 12 years of teaching experience with both high school and middle school classes.
"We are fortunate to select Ms. Sarah Newman to serve as your child's Algebra 1 or Algebra 1 Honors teacher for the remainder of this school year," Principal Gordon Stokes said in an email to all the parents affected by the change. 
Due to the many changes between teachers, different teaching styles have been given to this group of students.
"We realize there have been several changes in teachers over the past few weeks and we appreciate your patience," Principal Stokes wrote. 
"I think I can get through [all the changes]," said Rishima. "All the teachers give different perspectives in different ways to solve the problems, which are beneficial for the midterm."
"[Ms. Newman] is good at explaining things," said Naomi. "She's a good math teacher. She explains things in depth."
"All these switches before the midterms don't seem correct," Rishima said, though she isn't worried. "The teachers have gotten each other caught up and they know what they're teaching. And Ms. Newman is so nice."
"She's very cool," said Naomi. 
Despite the changes, from Mrs. Outland, to Ms. Sivakumar, to Ms. Newman, classes in C210 has returned to a normal schedule.
"For the past several weeks, Ms. Ganga Sivakumar has served as the substitute teacher and worked dutifully to maintain instruction," Principal Stokes wrote. "We are grateful for her time and energy to provide a meaningful experience to students. Please join me in welcoming Ms. Newman and thanking Ms. Sivakumar."