RCMS takes on Stone and Hughes in basketball games
Rachel Carson has been facing other schools on Friday in basketball games for the second week in a row, and students are hungry for more.
RCMS's basketball team tied Stone Middle School at a set of basketball games on March 17, with Stone taking home wins for seventh-grade and eighth-grade boys, and Carson winning the seventh-grade and eighth-grade girls' games. The week before, RCMS had played against Langston Hughes as well, winning the seventh-grade girls' and eighth-grade boys' games.
The basketball team for RCMS meets in the Gym almost every day for A and B Block, and have been working hard for the game. The games are a roller coaster of emotions for players and viewers alike as the two schools duke it out in four highly competitive games.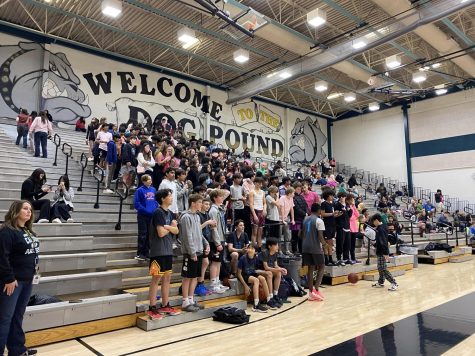 Both sides had a student section. The crowd at the Stone game was loud, showing their respective colors. The event was a Pink Out, a tradition usually for showing awareness and support for breast cancer. Both sides showed their colors, and chants were a big part of the game. Sayings like "D-FENSE" were quite common throughout the game.
After the first set of games against Hughes, Mr. Riley Barrows, after-school specialist, said the games are a good opportunity for students to gain experience for high school.
"I'm absolutely impressed with the teams — especially JV girls team did not let Langston Hughes score a point," he said. He said he would like to add more games to the schedule.
Students are hopeful for even more basketball games after the terrific performance from both teams. The games have gotten students to wear more Carson colors throughout the school.
"I'm very proud of the way our students behaved and played," Mr. Barrows said.