It's the brightest time of the year!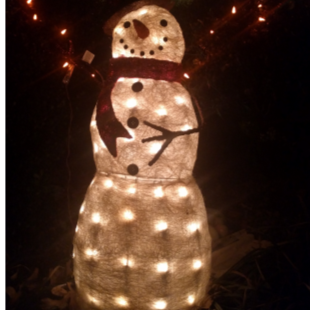 "Christmas is a time to spend with family and friends," said Jaden Wang, an eighth-grader at Rachel Carson Middle School.
Many people celebrate Christmas by putting up lights and enjoying with their families and friends. Families often put up Christmas trees and decorate their house with bright colors. "We have a Christmas tree, stockings and lots of lights," said Caleb Soong, a seventh-grader at Rachel Carson Middle School.
Christmas is a time to have fun because it is the jolliest time of the year. Families are often visiting relatives in foreign countries to enjoy the break. "I went to India during Christmas this year," said Sahil Lalani, a seventh-grader at Rachel Carson Middle School.

The street lights keep cities lit for 24 hours. During Christmas, there is no need for that. Lights and decorations cover the ground. The fences and roofs are all of full of lights. Snowmen rise across the lawns and all over sidewalks. Lights are brighter than ever seen as the Christmas spirit finally arrives.
The Christmas tree has often been used to show Christmas spirit. In the year 2016, there were 27.4 million Christmas trees were sold in the US. That is almost as much as the population of Texas! Why is the Christmas tree so famous and when did the concept start?
The Evergreen fir tree (better known as the Christmas tree) has traditionally been used to celebrate the winter spirit. This tree has not been used to celebrate Christmas all the time. The history of the Christmas tree starts of all the way back in the time of the Roman empire. Romans used these fir trees to decorate their temples.  
Later, Europeans hung the fir trees upside down to represent their trinity. They were hung upside down from chandeliers and ceilings. Christmas decorations have changed a lot over the years. Now, in the age of electricity, residents use lights to brighten up their trees.
Christmas trees are not the only things that can decorate the Christmas times. As wreaths hang from doors, ornaments fill the trees, and the whole community is transformed into the winter wonderland. When happiness fills the halls and joy enters classrooms, the school is set for the holiday.
In Rachel Carson, majority of the students celebrate Christmas but some celebrate Hanukkah and Kwanzaa. Every culture has a festival of lights. For example, Diwali is the Indian festival of lights. People often have parties that night and celebrate with fireworks. These lights bring joy to everyone.
Many local residents wait for a relatively warm day in late November to put up all their lights. Everyone in the community gets their jackets on and joyfully hangs the lights. A child stands and looks through the window. He has a broad smile on his face while watching his dad sticks the small Christmas tree into the ground. Everyone could feel the Christmas spirit. It was the brightest time of the year!