White Christmases and us: The history of white Christmases in the D.C. area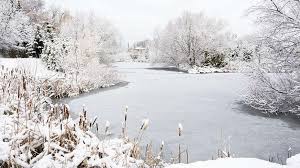 Candy canes and presents mean the holiday season is upon us. If there is one thing that adds magic to this special holiday, it is the white Christmas.
A white Christmas is when there is snow on Christmas day. Around Northern Virginia, this is not a very common occurrence since we are a little too far south for cold air to reach us.
Just like in years past, 2017 was a dud for the white Christmas here. The temperatures were there, the high temperature was 39, and the low was 26 for Christmas day. Albeit the high was above freezing, it would still have been cold enough for it to snow, it would have just been really puffy snowflakes.
But in order for snow to fall, there needs to be precipitation, which didn't fall. According to the climate report for Christmas Day, we did have a trace amount of rain (< 0.01 of an inch) but no snow. In fact, the weather reports say that it was a sunny day.
Let's Look at the History
According to the National Weather Service, from 1884 to 2016,  there were only nine times where measurable snow has fallen on Christmas Day. the last time snow fell on Christmas Day was in 2002, where a measly two-tenths of an inch fell.
Washington, D.C., hasn't seen more than an inch of snow on Christmas since 1966, when a snowstorm that made 1966 the snowiest Christmas that D.C. has seen to date, dumped 5.4 inches of snow in the D.C. area.
Although, there have been times where there has been snow on the ground from previous snowstorms on Christmas Day.
From 1888 to 2016, there have been 19 times where measurable snow has been on the ground on Christmas Day. The last time that there was snow on the ground on Christmas Day was in 2009, where there was still snow from a Dec.18-19 snowstorm that dumped seven inches of snow.
Historically, D.C. has a 15 percent chance of seeing snow, whether it be falling or already on the ground, on Christmas Day.
White Christmas Memories
Most of us are too young to remember the last Christmas snow, but one teacher has great memories from when he was a kid.
 "Once when I was really little," said Mr. Corman, the civics teacher on the Yellow Jackets team. Mr. Corman grew up in Kansas, where he had a few white Christmases. "I remember going to bed on Christmas Eve and waking up the next morning, surprised to see a couple inches of snow on the ground. I was surprised since I was too young to pay attention to the weather. My parents live in the mountains in Colorado and when I go to visit them I usually see snow."
Still Waiting
  While most of the teachers at Carson have experienced a White Christmas, there are still some teachers that have not experienced this phenomenon.
"I saw snow on the ground, but I never saw any fresh snow," said Ms. Pyles, the Business Information and Technology Teacher at Carson. "There were times that I would go to my grandparents' house in West Virginia and saw snow on the ground. But I never woke up to fresh snow on the ground. When you get older, the holiday becomes less about Santa and more about the magic that surrounds the holiday."