RCMS Thanksgiving grows with students and teachers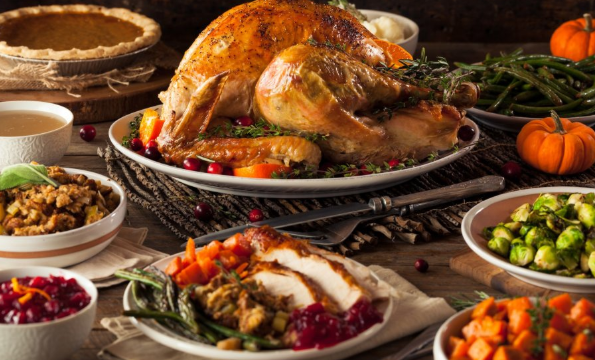 Thinking of Thanksgiving, many imagine a big turkey dinner accompanied by plentiful servings of sides like mashed potatoes, green beans and cranberry sauce,  finished by a dessert of pumpkin pie.  The American holiday celebrates the story of the Pilgrims' meal with the Native Americans and is a day to spend with loved ones and for giving thanks. 
However, this traditional meal isn't always representative for everyone nowadays, as this staple American holiday is evolving.
Ms. Melissa Tochterman,  Assistant Principal of RCMS, said, "Well, I didn't really have a normal Thanksgiving."
She was one of the handful of people who had an untraditional Thanksgiving. She had a "New England"  dinner, which means the turkey is replaced with lobster and side dishes revolve around it.
"My mom knows lobster is my favorite food, so she prepared it for me," she said. "It was awesome." 
Another tradition that seems to be changing is Black Friday shopping, at least physically.
Seventh-grader Evan Blase on the Majestics team said, "Nowadays, everyone shops online. I really enjoy getting gifts for my younger siblings, and it's a lot easier to search online on a website."
Some people have quit Black Friday shopping altogether. 
Principal Gordon Stokes didn't go Black Friday shopping. Instead he went to see "Frozen 2" with his daughter. Ms. Tochterman didn't go shopping either.
One thing that doesn't seem to change, though, is celebrating with and being thankful for family and friends. Almost everyone who participated in a Thanksgiving survey reported that they celebrated with either friends or family. 
Mr. Stokes spent time with his family at his house, eating, relaxing, and watching college football. To Mr. Stokes, Thanksgiving is "an opportunity to be with family and friends."
Besides Thanksgiving day, the break provides some much-needed relaxation.
"The first few weeks in December before winter break are really busy, so it's good to have a break before all that," said Principal Stokes.
One anonymous seventh-grader used the time to catch up on rest, simply putting "slept" when asked what they did on the online poll. Other students used the time to catch up on homework or schoolwork that they missed.
"School has taken over my life, and this Thanksgiving Break was much needed to catch up on everything," said an anonymous  high school student who previously attended Carson. "It also gave time to relax and take my mind off of school."