Carson mission: End hunger
Students at Carson Middle donated to the food drive occurring during the last week of November to help their peers needing food over the holidays.    
The food drive helped students and teachers to provide fellow students with necessities f0r the holidays and unexpected snow days. 
"Many students' only source of food is through the school, so over the days the school is closed their food source is cut," Mrs. McPherson said. "This program helps many Carson families."   
Mrs. McPherson is the school's parent liaison. She links the gap between home and school by giving parents information and support they need for their child's success. She worked with the school's social worker, Mrs. Krsmanovic, to organize the food drive. 
This program has been a success for over four years. This year there were at least 60 different pre-packaged food items. Any excess food goes to other schools such as Coates Elementary, Herndon Middle and Herndon High Hchool, or to local shelters. But Carson's families are priority.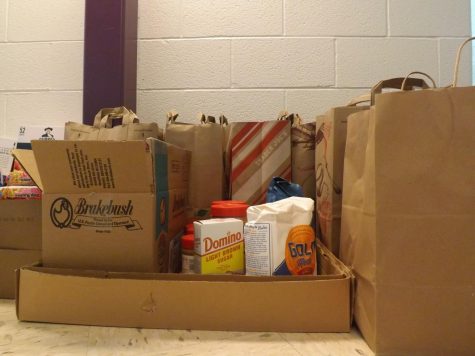 Food drives help provide food healthier for community members. There are many people facing hunger every day, in every state and every country. Local food banks, shelters, and soup kitchens require donations almost every day to keep their shelves stocked. Food drives also spread awareness about hunger and inspire others to take action. 
Local food drives help educate students and parents on proper nutrition and food waste.
Food insecurity refers to the lack of nutritious and affordable food. In 2018, there were approximately 14.3 million American households with limited access to enough food. There are also many children who struggle with hunger. Studies show that students who face hunger are most likely to repeat a grade or lack social interests.
Ten randomly selected participants of the food drive were announced winners. Winners of the raffle had the choice of selecting hallway music.   
"I think all the teams stepped up this year, and the food drive was a success," Mrs. Krsmanovic said.