Spring musical puts a spring in everyone's step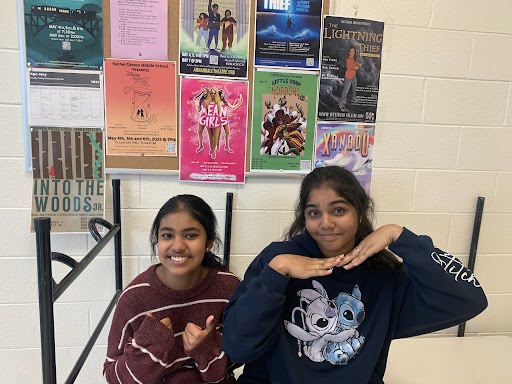 RCMS's spring play brought together theater students from all around the school, to recruit them into bringing this play to life. 
Bethany Lindorf and Ava-Grace Satterfield are the two main actors in "Freaky Friday," playing Ellie and Catharine. Many of the students mention how fun it is at rehearsal, to hang out with friends and be part of such a big production. Most of the cast at rehearsals already know each other, making this transition into the play much more smoother for everyone. 
"My favorite part of rehearsals is practicing the scenes with my friends," Bethany said, "And my favorite part of the play are the scenes with Ava-Grace."
The musical targets to a younger audience, making it relatable for middle schoolers. The play hasn't spent much money on props, instead choosing to have  some students who are constructing the props use upcycled and handmade props. Ms. Calandra Couch's art class was also incorporated into the play, with students from the art class making the digital sets for the play.
Other than the digital sets, one of the most important parts of the play are the clothes. The clothes are specifically picked out, most of them have to look like a normal middle schooler's clothes. 
"I love my job — being a costume crew member has given me an opportunity to utilize my creativity," Tanmayi Vellanki, a seventh-grader on the Mavericks team, said. 
Along with the costume crew there are also the stage managers, lighting, sound, props, makeup and promotions. Another big part of the play is the choreography and music. 
Maisie Smith-Zoh was one of the students in charge of the choreography and did a splendid job, according to Ms. Christen Reddig, the RCMS chorus teacher. Ms. Reddig is the music director in charge of all the music in this play. She mentioned the songs are very fun and upbeat, and they're not very hard to learn — most of the crew picks up the songs just by hearing it during rehearsals, along with the funky dance moves to match the beat. 
"My favorite song is probably 'I'm not myself today,' which is mostly a duet between Ellie and Catherine," Ms. Reddig said. "The students like the final song,  'At Last It's Me' or 'Oh Biology.'"
Ms. Redding praised students for overcoming challenges.
"People should definitely come see the play because everyone's worked really extra hard, and y'all should be coming out to support your friends," Ms. Redding said.