Seventh-grade students wonder if TJ is worth getting into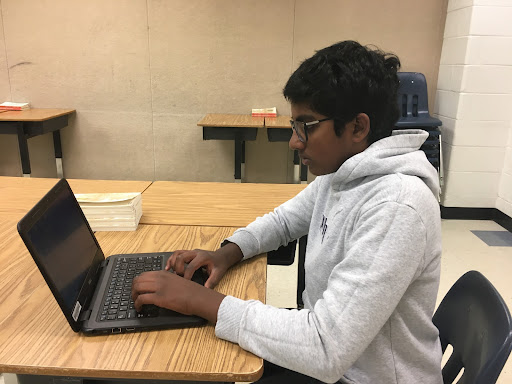 As the prospect of applying to TJ comes closer, seventh graders start to wonder if the school is worth getting into.
Thomas Jefferson High School for Science and Technology, better known as TJ, is a school known for its opportunities and STEM-based classes. Unlike other high schools, students who want to go to TJ are required to apply in order to attend. Once they apply, they go through several tests to see whether they are eligible. After they take the tests, they will wait and see if they get admitted, waitlisted, or rejected. 
As the prospect of applying to TJ gets closer, seventh graders start to wonder if they should apply or not.
"I'm gonna try to, but if I get in, I'm not gonna go," said Advaita Patel, a seventh-grader on the Trailblazers team. "It's good for people who are interested in math or science or whatever, but I don't really get the hype." 
But some people are more eager to get in, like Saatvik Gudavaali, a seventh-grader on Discovery.
"I'm planning on applying to TJ," he said, "because I want the ability to go to such a prestigious school, compare myself to other students, and learn as much as I can."
However, the admissions can cause plenty of stress, from taking the tests to waiting for the results to actually attending the school. Advaita feels that the stress that comes with it is unnecessary.
"I don't think people need to be that stressed," she said. "'Cause it's just a school. If you don't go to TJ, there's a lot of other schools, it's not a big deal" 
Vaneesha Vijayaram, a seventh-grader on Mavericks, feels that the stress is a natural thing and is something that people can get over.
"I mean, the stress, I wouldn't really say stress," she said. "Stress happens, but it's totally worth it [to get into TJ]."
But TJ isn't meant for everyone. A magnet school for science and technology, it has many STEM-related courses, and may not be appealing for some people. 
"I think students who really want it, who's working hard, and want the kind of opportunities that the STEM programs that are offered at TJ, I think it's a great opportunity for them," said Ms. Christina Cho, a Discovery seventh and eighth grade English teacher. "But even trying to get in, kind of sets you up for success, I think."
At the end, Ms, Cho feels happy for everyone that got into TJ, but is mostly proud of the students that tried and didn't get in.
"Even if not everyone got in," she said. "I think their resilience is extremely respectable."