Teacher by day, poker player by night
Two sides of an RCMS teacher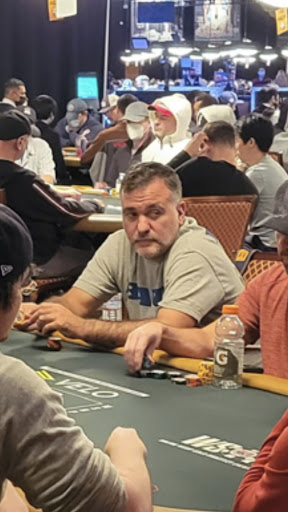 As he walked into the Rio in Las Vegas, adrenaline was rushing through PE Teacher Demetrios Kappatos as he scouted out the room full of his 8,000 opponents.
The World Series of Poker tournament took place in December, 2021. It was held in five different conference rooms named after five different colors.
"Each conference room was about eight times the size of our school gym," he said.
The rooms were equipped with over 250 poker tables. Your ticket would tell you what room and table to go to. Mr. Kappatos played in the blue room that had about 1,600 people on the first day.
"You were given an entry ticket that had which conference room, which row and which seat you were assigned to," he said.
Mr. Kappatos stayed in a hotel where a lot of his competitors were also staying, so he already had gotten a minor feel for what was coming. However, it was very overwhelming walking in on 8,000 people, some of which were professional poker players.
Though it was very professional and serious, Mr. Kappatos felt welcomed by all the fellow poker players.
"I met a lot of professional people and they were very welcoming," he said.
The tournament was nine days long, all in Las Vegas. You'd play from 11 a.m.-1 a.m. with 15 minute breaks every two hours and an hour-long dinner break after six hours. All 8,000 people put in $10,000, he said.
Going into the tournament Mr. Kappatos was ready.
"I was confident and excited," he said. "I wasn't really nervous since I've been playing for over 20 years." 
Since there were 8,000 people and it was a main tournament, many famous poker players attended it. Mr. Kappatos made lots of memories at the tournament.
"My most memorable moment was sitting with six professional poker players that I've seen on TV," he said.
According to Mr. Kappatos, every poker player thinks they're the best. However, there can only be one winner. Mr. Kappatos knew he wouldn't win the whole tournament but he still played his hardest in hopes to make some money.
He said, "I knew realistically I wasn't going to win but I set goals each day." 
Though he only made it through day two, he still left with a profit.
Skill, luck and risk
Some people think poker is more luck while others say it's more skill. 
"Poker has just as much skill as it does luck," said Kiady Ramarolahy, eighth-grade, X-Treme team student.
Mr. Kappatos emphasizes that poker is more skill than luck even though most viewers disagree. He claims that poker is very similar to chess.
"It's like chess," he said. "You have to know your opponent and what they're doing."
Though poker requires a lot of skill, there is still a massive amount of risk involved. If you play too risky, you can lose a lot.
"I know people who have lost their jobs, their house and family from poker," said Mr. Kappatos.
Sahir Mantri, eighth-grader, on the Voyager team, thinks it's a dangerous game but says that gambling can win you big if you play smart.
"When you go all in you have to make sure you have a very good hand," said Mr. Kappatos.
Probability plays a big part in poker whether you win big or lose everything.
"Probability is usually not on your side because poker has a lot of luck involved. If you do get a good hand though, probability can sometimes be on your side."
Though being too risky can lead to bad things, you still need to take some risks.
"You have to take some risks in order to win," said Ms. Lisa Riddle, a math teacher
When poker players win big, they tend to keep putting in more money in hopes of winning even more. However this can lead to an addiction.
"Even though gambling is fun and can make you a lot of money, it can lead to addiction and lose you a lot of money," said Sahir.
Mr. Kappatos states that poker addiction has led to separation in families. Poker addictiveness can affect different ages differently.
"I think it's more addictive for older people because they have the money to spend while kids don't," said Kiady.
Playing for fun
Poker is a very well-known sport and is played all around the world. Though many people don't play professionally, tons of people just play for fun with friends and family.
"I played poker with no money with friends before and it was really fun," said Sahir. "Poker tournaments seem fun though because I've been to many football and basketball tournaments and they were really fun.
Though poker is popular worldwide, many people still haven't played before, one of them being Ms. Riddle.
"Gambling does not appeal to me, I've never wanted to," she said.
Poker isn't just a game. It has also played a big part in mathematicians learning about probability.
"Field of probability and statistics was inspired by poker and other gambling games in France," said Ms. Riddle.
Poker has many factors in it to win but Kiady goes by one saying:
"If you're going to play poker, don't lose."