BookTok: This might be the last wholesome thing on Earth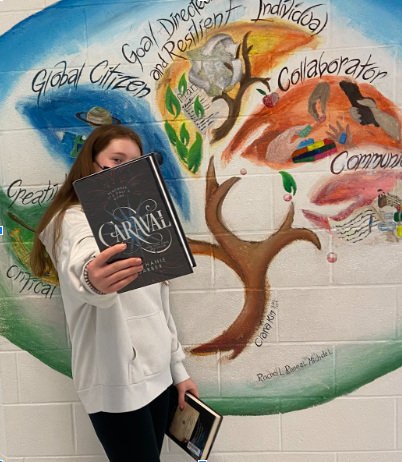 BookTok is a well-known subcommunity on TikTok, born from the boredom of quarantine. It's a place where all readers belong.
Zoha Saddiqi, an eighth-grader on the Yellow Jackets Team said, "BookTok gives readers somewhere to fit in, where you all have something in common. It's nice to be in a community where you all enjoy reading."
Creators in the subcommunity discuss, review, and even make jokes about books. The creators of  BookTok are all very relatable because they are readers just like you, doing what they love. Creators usually focus on  – romance, fantasy, and young adult fiction. BookTok creators also shed light on authors of color and LGBTQ+ literature. 
The growing influence of BookTok has the power and potential to encourage those who matter. Readers. It helps root a reader's preference in genre, so whatever someone posts, is helpful, and meets their accommodations.
Readers have something to relate to when on BookTok because if their friends don't like to read, they have someone to talk to about the books they liked so they don't feel left out.
 Mr. Kirk Treakle, head librarian of RCMS, feels, from what he knows BookTok seems to be wonderful, it brings attention to books people wouldn't be exposed to.
 "I think it's wonderful," he said. "It seems it's gonna reach a lot of people that would otherwise not be exposed to information about new books."
Any type of genre you love to read is valid. Readers feel you shouldn't feel out of place because you like nonfiction and don't like romance. On BookTok no one is left out for any personal characteristics.
The stereotype about readers looking a certain way. 'Nerdy glasses, baggy sweaters, blah blah blah.' It doesn't matter because it isn't true. Readers are tired of people expecting something and when they find the 'unexpected' it's wrong. 
Society thinks because you like to read you like 'intellectual books' that's also not true, young readers use this sometimes as a getaway, everyone doesn't like to read nonfiction books, and that's okay.
 It is known to all readers, that in the beginning finding your genre was a little difficult.
 Maisie McArter, an eighth-grader on the Dolphins Team, wants you to know to not give up on reading because you don't like a certain genre.
"Try books from all different genres.  Just because you don't like fantasy doesn't mean you don't like to read." Maisie said.
BookTok isn't the only option there is to find recommendations. Just because everyone else uses something and feels it's the best and the only way to do something, doesn't mean it's the best for you.
Libraries and catalogs are a couple of known and substantial methods to find books to read.
Mr.Treakle suggests trying all methods because there's always something out there for you.
"Some people like browsing, or some people like using the catalog," said Mr. Treakle. "Look for different ways like social media or different websites."
BookTok books have gone worldwide with recognition.
 Many of the most popular BookTok books are here at RCMS, including: 
'Six of Crows' By Leigh Bardugo ( which has a show adaptation coming soon)

 'It Ends with Us' By Colleen Hoover

'The Selection' series By: Kiera Cass

'Good Girl's Guide to Murder series' By: Holly Jackson 

'The Seven Husbands of Evelyn Hugo' By Taylor Jenkins Reid   

'Daisy Jones and The Six' By Taylor Jenkins Reid

'Beach Read' By: Emily Henry

'People We Meet on Vacation' By Emily Henry

'We were liars' By E. Lockhart

'They Both die in the end' By Adam Silvera

'The Caraval Series' By: Stephanie Garber
Bookstore 'Barnes and Noble' has incorporated BookTok into their company. With their websites and adding a table specifically for 'BookTok Books"
BookTok is known to shed GREAT success and light on many authors. A tremendous amount of authors have become 'New York Times Bestselling Authors' because of the Booktok community.
Tracy Wolff. Author of the 'Crave Series' known for its similarities to the well-known classic 'Twilight'

Colleen Hoover. Author of many successful 'BookTok Books' including, the well known

 'It Ends With Us

Emily Henry

Tahereh Mafi(Shatter Me series )

Taylor Jenkins Reid

Christina Lauren( Love and Othe

r Words)
According to Forbes "The romance novel It Ends With Us by Colleen Hoover was the second best-selling Adult Fiction book and sixth best-selling book overall in 2021—selling more than 770,000 copies.
BookTok gives readers a place where they don't feel different. They feel understood. Being a reader isn't something to be forced into, this article isn't to advertise BookTok. It's a recommendation.
Mr. Treakle wants you to not give up because reading also can be therapeutic and relieve stress.
"Never give up, books can open new horizons for you,"
Reading opens a new beginning for people, and if you don't like to read that might not be it. You just might've not found your book yet. And if you just don't like to read that's okay too. 
 As the famous Dory says, "Just keep swimming."